THE BOOK
July 1935. In the village of Aldwick on the Sussex coast, sixteen-year-old Hazel faces a long, dull summer with just her self-centred mother Francine for company. But then Francine decamps to London with her lover Charles, Oswald Mosley's blackshirts arrive in Aldwick, and Hazel's summer suddenly becomes more interesting. She finds herself befriended by two very different people: Lucia, an upper-class blackshirt, passionate about the cause; and Tom, a young working-class boy, increasingly scornful of Mosley's rhetoric. In the end, though, it is Tom who wins Hazel's heart – and Hazel who breaks his.
Autumn 1936. Now living in London, Hazel has grown up fast over the past year. But an encounter with Tom sends her into freefall. He must never know why she cut off all contact last summer, betraying the promises they'd made. Yet Hazel isn't the only one with secrets. Nor is she the only one with reason to keep the two of them apart
THE REVIEW
"Love was painful, but it was a pain you had to bear. It was a pain that meant you were alive."
I cannot tell you how much I enjoyed 'The Faithful', I couldn't put it down. It's such a compelling tale, full of twists and deception and at its heart, a love story.
The story follows Hazel and Tom, who have a chance meeting in the summer of 1935 and following one night in that July their lives are blown apart. Not only do we follow Hazel and Tom, there's Bea Tom's mother and Francine, Hazel's mother. Bea wants only the best for Tom and Francine is too busy with her lover Charles, who is a vile, vile man, to notice Hazel. All their lives become intertwined, secrets are weaved and truths are hidden.
When we meet Hazel she is a lost sixteen year old. And becomes caught up with the blackshirts in an attempt to forge a friendship with Lucia, who I really took a disliking to. As a way to entertain and herself and learn about the world, Hazel reads a copy of 'Ideal Marriage' – the snippets of this book were hilarious, a very outdated view of marriage and the instructions on marital relations are clinical and amusing! I loved their inclusion in the book. Hazel's character starts out naïve, looking for adventure but she has to grow up fast and quickly learns life can be cruel.
I do enjoy a book that prompts me to visit Google and 'The Faithful' did that. I had never heard of the blackshirts movement in Britain so it was interesting to learn about this group of people who thought Hitler was doing the right thing.
There are so many little twists in this story that I just had to keep reading. Lies are told and Tom and Hazel are kept apart because of them. I got so frustrated, I just wanted everything to come out and for everyone to have a happy ending! You'll have to read it to find out for yourself of course. Full of emotion, vivid characters and an absorbing plot 'The Faithful' is a superb read that I just loved. And just look at that utterly stunning cover.
BOOKISH CORNER RATING – 5/5 STARS
THE AUTHOR
Juliet West worked as a journalist before taking an MA in Creative Writing at Chichester University. 'Before The Fall' was her debut novel and was shortlisted for the Myriad Editions novel-writing competition in 2012. 'The Faithful' is her second novel. Juliet lives in West Sussex with her husband and three children.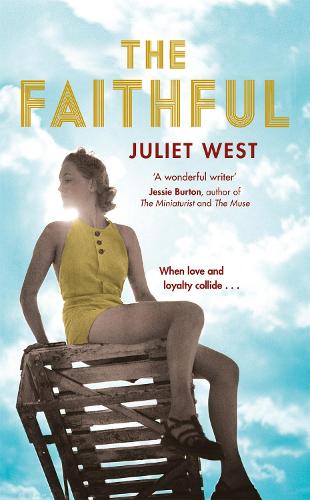 'The Faithful' is out now in hardback published by Mantle. With thanks to Jess Duffy at Pan Macmillan for my review copy.
If you enjoy 'The Faithful' as much as I did, the you should try these too:
'Devotion' by Louisa Young
'The Chilbury Ladies Choir' by Jennifer Ryan
'At First Light' by Vanessa Lafaye
'Where the Wild Cherries Grow' by Laura Madeleine