THE BOOK
Each December, Adrian Gray invites his extended family to stay at his lonely house, Kings Poplars. None of Gray's six surviving children is fond of him; several have cause to wish him dead. The family gathers on Christmas Eve – and by the following morning, their wish has been granted. This fascinating and unusual novel tells the story of what happened that dark Christmas night; and what the murderer did next.
THE REVIEW
"Adrian Gray was born in May 1862 and met his death through violence, at the hands of one of his own children, at Christmas, 1931."
This marks the 50th book in the British Library Crime Classics series, a series that has captured the imagination and love of mystery readers everywhere. I fell in love with this series as soon as I read the first book and I've tried to spread that love everywhere!
This is a crime tale like no other, it's not a whodunnit. We discover the killer's identity very early on in the story and then we get to sit back and watch what happens next. The book starts by establishing each member of the Gray family, we discover their personalities, their relationships with each other and with head of the family, Adrian Gray, and are given details on how they live their lives. This really helps to build a picture of all the players and of how their minds work. It's a very clever way introduce our killer.
Of course, each family member had reason to murder Adrian Gray but we don't get to play detective with this one. Instead we get to read the narrative of the killer, through their eyes we hear how the murder happened and how it was covered up. This part of the book was fascinating, the killer stays calm, their focus becoming how to divert suspicion onto another poor member of the family.
Someone is arrested, but it just doesn't sit right with Miles Amery, married to Adrian Gray's daughter Ruth. He becomes determined to seek the truth and his investigations start to send the real killer into a spiral and we see our story reach a dramatic climax.
Entertaining, intriguing, clever and unique 'Portrait of a Murderer' makes for a great psychological study of a murderer's mind. A wonderful read for any time of year.
BOOKISH CORNER RATING – 4/5 STARS
THE AUTHOR
Anne Meredith was the pseudonym of Lucy Beatrice Malleson (1899-1973), who is best known as the author of the Arthur Crook series of detective novels published under the name of Anthony Gilbert. She was a highly esteemed writer of crime fiction and a member of the elite Detection Club.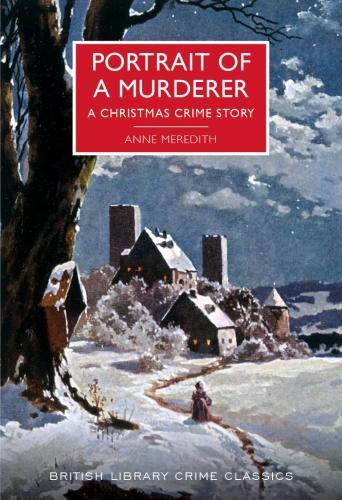 'Portrait of a Murderer' is out now in both hardback and paperback, published by The British Library. With thanks to Abbie at the British Library for my wonderfully wrapped copy.
If you fancy more Christmas crimes then try these:
'Hercule Poirot's Christmas' by Agatha Christie
'The Santa Klaus Murder' by Mavis Doriel Hay
'Crimson Snow' edited by Martin Edwards
'Crime at Christmas' by C.H.B Kitchin