THE BOOK
Newly married, newly widowed Elsie is sent to see out her pregnancy at her late husband's crumbling country estate, The Bridge. With her new servants resentful and the local villagers actively hostile, Elsie only has her husband's awkward cousin for company. Or so she thinks. For inside her new home lies a locked room, and beyond that door lies a two-hundred-year-old diary and a deeply unsettling painted wooden figure – a Silent Companion – that bears a striking resemblance to Elsie herself…
THE REVIEW
"The companion no longer looked out across the grounds. She stared, dead and unblinking, right into Elsie's soul.
Mabel had not been lying. Its eyes moved."
This book had me utterly utterly gripped right from the get go. It opens at St Joseph's Hospital in 1866, where Elsie Bainbridge, silent and uncommunicative is receiving treatment. This teasing opening chapter reveals that something happened to Elsie, something devastating. Then she begins to write down her tale of what happened at The Bridge.
The setting for this book is perfect for the story – a crumbling, unloved, unlived in country estate The Bridge, situated in a village where the locals fear the house. Laura Purcell's descriptions are superb, you can smell the musty unopened rooms, see the dust motes hanging in the air, feel the dark, dingy claustrophobic rooms and hear the odd scratching noises coming from behind a locked door. This book has so much atmosphere, it's perfect.
Now I have a thing about mannequins, they just freak me right out, so when I realised the silent companions in Elsie's tale were basically sixteenth century wooden mannequins well that was me royally chilled to the bone! And in the words of Mabel, a maid in the house, 'it gave me the collywobbles.' And when these wooden figures start appearing in places by themselves, things at The Bridge take a dramatic turn.
The story contains diary entries from Anne Bainbridge, who lived in the house in 1635 and who brought the companions into the home. These extracts really help to build the story and discomfort towards the wooden figures. The timeline also flits back to our opening at St Joseph's Hospital, reading these interludes you know that the story is building up to a dramatic, terrifying conclusion. The diary and the hospital scenes provide a great platform to increase the sense of tension and apprehension.
I do love reading a book that makes me shudder and gives me a creeping sense of unease and 'The Silent Companions' certainly did that. This book is so well written, you become completely immersed and the story just draws you in. The cover is also stunning, it will sit happily with my beautiful books collection. This is a gothic haunting tale, that you will sink into and struggle to leave. This one will definitely stay with me.
"Seven companions skulked besides the stairs.
It was too dark to make out their faces. Only silhouettes loomed, large against the wall as the lantern trembled in Sarah's hand."
BOOKISH CORNER RATING – 5/5 STARS
THE AUTHOR
Laura Purcell is a former bookseller. She lives in Colchester with her husband and pet guinea pigs. Her second novel, a gothic chiller, 'The Corset' is to be published in 2018.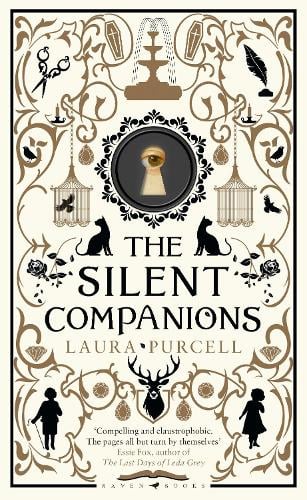 'The Silent Companions' is out now in hardback published by Raven Books. With thanks to the publishers for my reading copy.
If you enjoyed 'The Silent Companions' then you'll love these tales too:
'The Vanishing' by Sarah Tobin
'The Woman in Black' by Susan Hill
'The Painted Bridge' by Wendy Wallace