THE BOOK
Sisters Dolly and Tala have never felt further from home. In the blistering heat of Singapore, they spend their days enabling ex-pats to have lives they could never afford for themselves.
Even though she has little freedom, Dolly can just about live with her job if it means she's able to support her beloved young daughter back in the Philippines. One day – if she's lucky – Dolly may even be able to go back and see her.
Tala, however, just can't keep her mouth shut about the restrictive, archaic rules maids are forced to abide by on pain of deportation. She risks everything to help her fellow maids, who have struggled to have their voices heard for far too long.
In a world where domestic workers are treated so poorly, 'The Maid's Room' explores how women can come together to change each other's lives, and be the architects of their own futures.
THE REVIEW
"This is where she sleeps. A cupboard. A bomb shelter. A bedroom. She shuts the door of the windowless box and struggles to breathe in the hot, scarce air."
I do have a confession to make – I thought this was going to be a historical novel. I didn't really read the blurb when I accepted a copy of the book. I'd seen it floating around the blogosphere and on Twitter and immediately wanted to read it, without even reading anything about it. Just goes to show the power of a book title!
Within a few pages I was hooked. The story follows maids, Dolly and Tala. And also, Jules, living in Singapore with her husband after leaving England for his job. My favourite character has to be Tala, feisty, rude, hard-working and witty. She starts writing a blog anonymously to reveal the truth about working as a maid, fuelled by small-minded views of the mysterious Vanda, a blogger who offers advice to the employers of maids. I chuckled quite a lot whilst reading about Tala's exploits and she has some superb one liners.
This book is full of detail, Fiona Mitchell paints an in-depth picture of life in Singapore and of the housing blocks where the well-off live and the maids work. As someone who does not like the heat very much, the descriptions of the muggy, humid weather made me feel very sticky!
As with any book that looks at the subject of the rich and the poor, there were moments that made me truly angry. The treatment of these maids is appalling, the attitude of the company that hire them out to home owners was just shocking. Even more shocking when you realise that this is real life for many people. These women have left families behind in other countries to work, earn money and provide for them. The courage that must take is unbelievable. Dolly and Tala's story gives a voice to many, many people and opens your eyes to a world of hardship.
I adored this book – the characters, the writing, the setting all come together to create something wonderful. I am very excited about what Fiona Mitchell does next.
BOOKISH CORNER RATING – 5/5 STARS
THE AUTHOR
Fiona Mitchell is an award-winning writer and journalist. Inspired by her own experience of life in Singapore and extensive research 'The Maid's Room' is an eye-opening novel about life as a maid; a universal issue affecting us all. Fiona lives in London.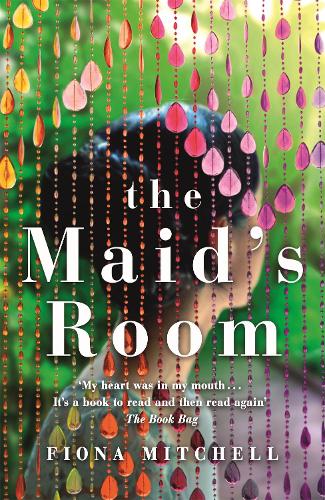 'The Maid's Room' is published in hardback on the 16th November by Hodder. With thanks to the author and publisher for my review copy.