THE BOOK
Two days before Christmas, a young woman is found dead beneath the cliffs of the deserted village of Kalfshamarvik. Did she jump, or did something more sinister take place beneath the lighthouse and the abandoned old house on the remote rocky outcrop? With winter closing in and the snow falling relentlessly, Ari Thor Arason discovers that the victim's mother and young sister also lost their lives in this same spot, twenty-five years earlier. As the dark history and its secrets of the village are unveiled, and the death toll begins to rise, the Siglufjordur detectives must race against the clock to find the killer, before another tragedy takes place.
THE REVIEW
When I was offered the chance to read and review 'Whiteout' for this blog tour, I jumped at the chance. I hadn't read anything by Ragnar Jonasson but had seen heaps of great reviews for his other books so I grabbed at this with both hands! I was initially a little worried about reading a book that is number five in a series without having read the previous ones, but there was need to worry. I didn't feel I was missing out on crucial back stories and I immediately warmed towards our hero, Ari Thor. Of course now I will be reading the rest of the series – I have 'Snowblind' ready to go!
The first thing that became clear to me was that this was going to be a book full of atmosphere. I found myself feeling an Icelandic chill as I read the descriptions of a snowy, icy, bitter Iceland. Setting the story in an abandoned village was a stroke of genius. You immediately get a sense of isolation and loneliness. It's easy to see how mysterious deaths happen in a place like Kalfshamarvik.
With only four other people living in the village, the tension and claustrophobia are inescapable. The web of secrets surrounding these people just grows and grows as Ari Thro and Tomas try to get to the bottom of what has happened. No one seems to be honest and the distrust among the group and the police is palpable. This element of the book did remind me of an Agatha Christie novel – a house, a small group of people, a potential killer among them – and I think that's why I enjoyed this book so much. Its Nordic crime does country house murder.
I loved all the little cliff hangers and I found myself unable to tear my eyes away from the pages. Dark, chilling, full of atmosphere and with tension that you cut with a knife, 'Whiteout' is a fantastic crime read. I can't wait to read the rest of the series and have now happily joined the legions of Ragnar Jonasson fans!
BOOKISH CORNER RATING – 4/5 STARS
THE AUTHOR
Ragnar Jonasson is author of the award winning and international bestselling Dark Iceland series.
His debut 'Snowblind', first in the Dark Iceland series, went to number one in the Amazon Kindle charts shortly after publication. The book was also a no. 1 Amazon Kindle bestseller in Australia. 'Snowblind' has been a paperback bestseller in France.
Ragnar was born in Reykjavik, Iceland, where he works as a writer and a lawyer. He also teaches copyright law at Reykjavik University and has previously worked on radio and television, including as a TV-news reporter for the Icelandic National Broadcasting Service. From the age of 17, Ragnar translated 14 Agatha Christie novels into Icelandic.
He is the co-founder of the Reykjavik international crime writing festival Iceland Noir. Ragnar lives in Reykjavik.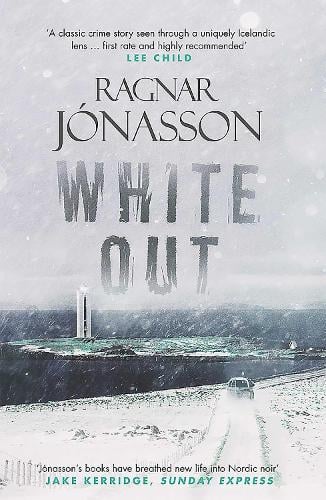 'Whiteout' is out now in paperback published by Orenda books. With a big thank you to Anne Cater and Orenda books for my reading copy and for my blog tour invite.