THE BOOK
Join Stella Starflake Pearl and her three fellow explorers as they trek across the snowy Icelands and come face-to-face with frost fairies, snow queens, outlaw hideouts, unicorns, pygmy dinosaurs and carnivorous cabbages . . .
When Stella and three other junior explorers get separated from their expedition can they cross the frozen wilderness and live to tell the tale?
THE REVIEW
"Stella had wanted to an explorer ever since she was old enough to know what the word meant. More specifically, she wanted to be a navigator. She never got tired of looking at maps and globes, and as far as she was concerned, a compass was just about the most beautiful thing in the whole entire world. After unicorns, obviously."
Oh, this book was a sheer and utter delight to read! Right from the outset when I first met Stella, her adopted father, Felix and her interesting menagerie of household animals (a polar bear, a unicorn, pygmy dinosaurs) I knew I was in for a fantastical and wonderful story. And I was! Stella is desperate to be a part of the Polar Bear Explorer's Club but they don't allow girls or women to join – outrageous! Felix convinces the club to Stella join on his latest trip and so begins a magical adventure.
There is a superb cast of explorers that join Stella, there's wolf whisperer, Shay, half elf and healer, Beanie and arrogant magician, Ethan. I had a particular soft spot for Beanie, he is unique, shy and has a wonderful habit of reciting the deaths of other explorers when faced with peril. And in this tale, our intrepid foursome face peril a lot!
This is a magical book that younger readers (and slightly older ones!) will fall in love with. Alex Bell has written a book that's witty, full of adventure and chock full of imagination. I love how this book is written, I adore all the extravagant names that appear, after all, explorers have to have three names, it's a requirement. I feel we have only just touched the surface of the adventures awaiting Stella and her friends, I certainly hope there is more. I mean who doesn't want to see more tales of carnivorous cabbages (named Pepe), unicorns, magical geese, polar bears and fairies!
BOOKISH CORNER RATING – 5/5 STARS
THE AUTHOR
Alex Bell has published novels and short stories for both adults and young adults including 'Frozen Charlotte'. 'The Polar Bear Explorers' Club' is her first foray into the middle grade. She always wanted to be a writer but had several back up plans to ensure she didn't end up in the poor house first. After completing a law degree, she now works at the Citizens Advice Bureau. Most of her spare time consists of catering to the whims of her Siamese cat.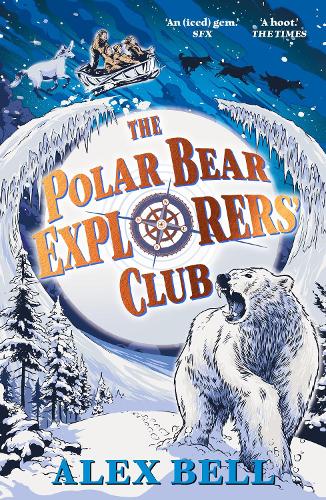 'The Polar Bear Explorers' Club' is out now in paperback published by Faber and Faber. It's the Waterstones  Children's Book of the Month for November and it is a superb choice!
If you loved meeting Stella Starflake Pearl then you should try these too:
'The Northern Lights' by Philip Pullman
'The Accidental Pirates – Voyage to the Magical North' by Claire Fayers
'The Uncommoners – The Crooked Sixpence' by Jennifer Bell
'Fantastic Beasts and Where To Find Them' by J.K Rowling