THE BOOK
The La Fleur restaurant has a slew of unusual phenomena. Bonnet-clad apparitions pass through walls, blood leaks from ceilings and rats besiege the dining room. Experts from the Great Essex Witch Museum are called in to quell these strange sights. But before Rosie Strange and Sam Stone can do their thing events turn darker. For La Fleur's chef has been strung up and slaughtered like a pig. More oddly, the only witness, the owner's daughter Mary, swears blind a ghost did it.
Rosie and Sam must find out what's happening before Mary takes the fall. But intuitions and tip-offs lead them stumbling into the dark waters of the past, exposing secrets of a wider conspiracy, as well as secrets all Rosie's own. With strange chills Rosie and Sam learn that seeing isn't always believing, while thoughts of truth may be just as illusory.
THE REVIEW
"What had the ghost done? Was it a ghost or a hallucination? And why had it got blood on its hands?"
I had oodles of fun reading this, 'Strange Sight' is entertaining and for the most part, light hearted. Rosie Strange and Sam Stone are hired to look into some mysterious activity which has turned into murder at a London restaurant, La Fleur. These two don't really know what they're doing, if they are honest with themselves. Most of their paranormal investigations are based on guess work and luck, but that's what makes this book so endearing. This is book two in the Essex Witch Museum series, I haven't read book one, but this book can happily be read on its own. Although I will be reading book one, if only to see the beginnings of Rosie and Sam's partnership.
Strange and Stone make a good team – thrown together in unusual circumstances when Rosie's grandfather leaves her the Essex Witch Museum. Alongside the museum, she also 'inherits' Sam a 'PhD student-cum-curator/manager'. These two could not be more different from each other. Sam is bookish, full of weird and wonderful knowledge on the history of witches and Rosie is outgoing, trendy and confident. However, like all bizarre pairings this one works and it was my favourite element of the story.
Syd Moore has blended crime, history and ghost story perfectly. I love a book that melds genres together and 'Strange Sight' certainly ticks that box. There are some moments that really gave me a shiver and there are some moments that are criminally dark. The addition of all the historical tales and facts made this book a winner for me. I particularly enjoyed the séance denouement – it reminded me of something from Murder, She Wrote or Agatha Christie. An elaborate way of getting the guilty party to admit to his or her crimes – fantastic.
Entertaining, witty and full of great characters.
BOOKISH CORNER RATING – 4/5 STARS
THE AUTHOR
Syd Moore lives in Essex where the Rosie Strange novels are set. Previuosly to writing, she was a lecturer and a presenter of Pulp, the Channel 4 books programme. She is the author of the mystery novels 'The Drowning Pool' and 'Witch Hunt'. 'Strange Sight' is the second novel in the Essex Witch Museum series. The first is 'Strange Magic' and the next instalment, 'Strange Fascination', will be published in 2018.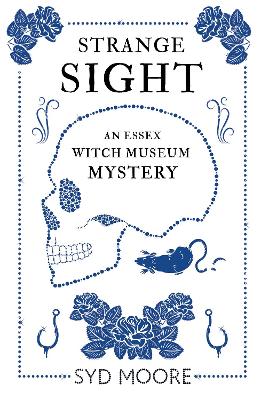 My copy of 'Strange Sight' was included in the November My Chronicle Book Box. You can find my full unboxing here My Chronicle Book Box – November Unboxing @MyChronicleBB and you can use my discount code when you subscribe – ECB10-9KY5IL.