THE BOOK
Darrow was born a slave. He became a weapon. He ended centuries of Gold rule, broke the chains of an empire, and now he's the hero of a brave new republic. But at terrible cost.
At the edge of the solar system, the grandson of the emperor he murdered dreams of revenge.
In his hidden fortress in the oceans of Venus, the Ash Lord lies in wait, plotting to crush the newborn democracy.
And, at home, a young Red girl who's lost everything to the Rising questions whether freedom was just another Gold lie.
In a fearsome new world where Obsidian pirates roam the Belt, famine and genocide ravage Mars, and crime lords terrorise Luna, it's time for Darrow and a cast of new characters from across the solar system to face down the chaos that revolution has unleashed.
THE REVIEW
'They planted us in stones, watered us with pain, and now marvel we have thorns.'
Oh Pierce Brown, how I love thee!
Once again, Pierce Brown has blown my tiny socks off with his words, his characters and his ability to drag readers over emotional coals. I loved every bloodydamn second! I need more please. Like right now! I was lucky enough to snag an early reading copy of this, upon opening it I screamed, did a happy dance and alarmed customers. To say I was keen to read it is an understatement!
It was wonderful catching up with the characters that I fell for with the original Red Rising trilogy (which if you haven't read you MUST). It was like a family reunion. Darrow will forever have my heart, he is my ultimate fictional crush (and his creator is my ultimate author crush ;-)) He again must face war, betrayal and terror as he fights for the freedom he so believes in. By his side is the unique, wolf-skin wearing, yet loveable Sevro. Their bromance is a thing of beauty. It is the bromance to end all bromances!
'Iron Gold' also brings us some new faces and my favourite of those was Lyria, a young Red girl who feels betrayed and forgotten by the new system. Her adventure in this story could have been a book all by itself. She is strong, willful, full of hope and doesn't suffer fools. I cannot wait to see more of her.
As you would expect from Mr Brown, there is rebellion, there is death, there are twists to end all twists, there is death, there are kick-ass characters, there is death and there are moments when you will clench your fist in the air and say 'damn you, Pierce Brown.' Did I mention, there is death?! You will love every soul destroying moment. This is an author who just goes from strength to strength, he has teased his legions of fans with the title for the next instalment ('Dark Age') and I am bursting with excitement to read it. Bring it on my goodman!
Per aspera ad astra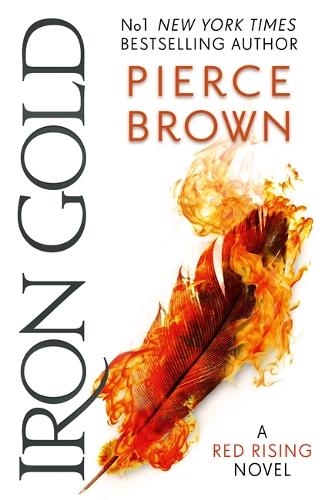 THE AUTHOR
Though Pierce Brown was born in Denver, his origins are a little more diverse, having called seven states home. These days he splits his time between Seattle and Los Angeles.
Before becoming a full-time writer, Brown spent time working as an executive aide on a U.S Senate Campaign, a script runner at ABC, a freelance web producer, and eventually an NBC Page. 'Iron Gold' is his fourth novel, and is a brand new tale of revolution and betrayal among the stars of the Red Rising universe.
A big, huge thanks to the teams and Hodderesque and Hodderscape for my advanced copy. You guys rock!
'Iron Gold' is out now in hardback.