THE BOOK
Single-mother Florida bounty hunter Lori Anderson's got an ocean of trouble on her hands. Her daughter Dakota is safe, but her cancer is threatening a comeback, and Lori needs JT – Dakota's daddy and the man who taught Lori everything – alive and kicking. Problem is, he's behind bars, and heading for death row. Desperate to save him, Lori does a deal, taking on off-the-books job from shady FBI agent Alex Monroe. Bring back on-the-run felon, Gibson `The Fish' Fletcher, and JT walks free.
Following Fletcher from Florida to California, Lori teams up with local bounty hunter Dez McGregor and his team. But Dez works very differently to Lori, and the tension between them threatens to put the whole job in danger. With Monroe pressuring Lori for results, the clock ticking on JT's life, and nothing about the Fletcher case adding up, Lori's hitting walls at every turn. But this is one job she's got to get right, or she'll lose everything.
THE REVIEW
Lori Anderson is back! I loved loved loved 'Deep Down Dead' and I leapt at the chance to be on this blog tour. 'Deep Blue Trouble' is set just a few days after events in 'Deep Down Dead' and instead of enjoying time with her daughter, Lori is thrown right back into work. This time to save JT, father of her daughter and love of her life.
Lori is real tough. Real bold and a real force of nature. She is a breath of fresh air to crime fiction. And I definitely have a girl crush! Fearless and resourceful, she will stop at nothing to get the job done. Yet she is a mother and seeing those softer, tender moments makes her vulnerable, genuine and believable.
I love the relationship she has with JT – her mentor and her lover. Lori knows how to survive on her own, she always has done. She does not need a man. Despite all that, she will do anything for JT. Lori knows how to protect her heart and those walls are pretty strong, but he has that heart. I'm looking forward to seeing where their relationship goes.
I also loved the introduction of Red, Lori's informant and gatherer of information. The relationship between Lori and Red reminded me of a father/daughter relationship. He was a great addition to the book and I really hope we see more of him.
Steph Broadribb certainly knows how to write a book that keeps you on the edge of your seat and how she manages to do it is beyond me, I felt breathless and my heart was pounding as I tore through the pages. To write with that level of intensity is a skill! Lori's exploits are a pressure cooker of tense, nail biting, exhilarating moments. Every chapter ends on a cliff hanger, enticing you to keep reading and stick with Lori way past your bedtime. This series is fresh, fast-paced, bursting with action and with a female lead unlike any other. I have become a huge fan of Lori and of Steph Broadribb, I cannot recommend these books enough – fresh, enthralling, exciting and wonderfully kick-ass. Bring on book three!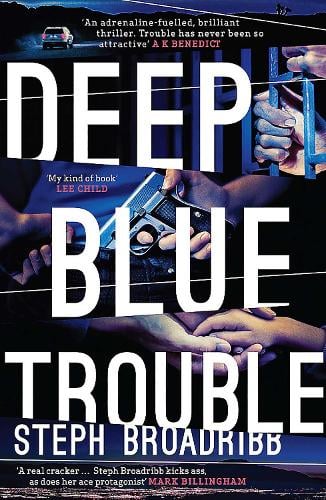 THE AUTHOR
Steph Broadribb was born in Birmingham and grew up in Buckinghamshire. Most of her working life has been spent between the UK and USA. As her alter ego – Crime Thriller Girl – she indulges her love of all things crime fiction by blogging at crimethrillergirl.com, where she interviews authors and reviews the latest releases.
Steph is an alumni of the MA in Creative Writing (Crime Fiction) at City University London, and she trained as a bounty hunter in California. She lives in Buckinghamshire surrounded by horses, cows and chickens.
Don't forget to check out all the other wonderful bloggers on this blog tour!
'Deep Blue Trouble' is out now in paperback, published by Orenda Books. With thanks to Karen at Orenda for my reading copy and to Anne Cater for inviting me on the blog tour.