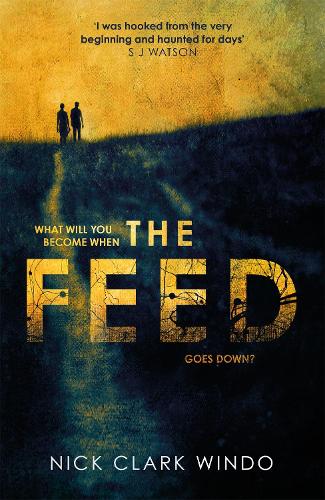 THE BOOK
Tom and Kate's daughter turns six tomorrow, and they have to tell her about sleep. If you sleep unwatched, you could be Taken. If you are Taken, then watching won't save you. Nothing saves you.
Your knowledge. Your memories. Your dreams.
If all you are is on the Feed, what will you become when the Feed goes down?
For Tom and Kate, in the six years since the world collapsed, every day has been a fight for survival. And when their daughter, Bea, goes missing, they will question whether they can even trust each other anymore.
The threat is closer than they realise…
THE REVIEW
Post-apocalytic/dystopian novels always give me a slight chill, a slight sense of unease because they are things that could happen. 'The Feed' particularly gave me a slight shiver – it's set in a world where people no longer talk to each other, all communication is through The Feed. Everyone is connected, feelings, lives and experiences are all there for everyone to see. Sound familiar?? With our phone and social media obsession this story line really makes you think about how much we are sharing, how much time we are spending online and just who could infiltrate our lives.
The opening chapter shows how life is in this world of The Feed, then it all goes wrong. The world collapses, everyone is forced off-line and people are 'taken' in their sleep. Their minds are taken over and they are lost. Six years on and we are with Kate and Tom, living on a farm with a group of survivors and during an attack their daughter is abducted.
I found this a pretty quick read, the sentences are short and punchy which helps the story fly along. It's a gripping story and you find yourself whipping through the pages and the ending was very clever. There's quite a strong moral undertone to 'The Feed', in this world people are kept on 'files' and even after they are dead their memories can be accessed. Is that right? Is that something that should be messed with? That gives me a slight shiver to think maybe one day that could be reality, who knows where technology will take us.
It's easy to see Nick Clark Windo's film career influences his writing. 'The Feed' would make a fantastic film or television series. As I read, I could easily imagine watching this on screen.
This is an unnerving, gripping and thought-provoking read. It's a brilliant addition to the post-apocalyptic genre and if you enjoy that genre, you will certainly enjoy 'The Feed'.
THE AUTHOR
Nick Clark Windo was a student on the Faber Academy Writing a Novel course. He studied English Literature at Cambridge and acting at RADA, now he works as a film producer and communications coach. 'The Feed' is his first novel. He lives in London with his wife.
Make sure you check out the other bloggers on this fab blog tour!
'The Feed' is published on the 25th of January by Headline. With thanks to the publishers for my reading copy and thanks to Anne Cater for inviting me on the blog tour.