THE BOOK
Bruce Attleton dazzled London's literary scene with his first two novels – but his early promise did not bear fruit. His wife Sybilla is a glittering actress, unforgiving of Bruce's failure, and the couple lead separate lives in their house at Regent's Park. When Bruce is called away on a sudden trip to Paris, he vanishes completely – until his suitcase and passport are found in a sinister artist's studio, the Belfry, in a crumbling house in Notting Hill. Inspector Macdonald must uncover Bruce's secrets, and find out the identity of his mysterious blackmailer. This intricate mystery from a classic writer is set in a superbly evoked London of the 1930s.
THE REVIEW
"Sucking away at his pipe, he realised that there wasn't any glamour about a murder case in which you knew the parties involved."
The opening to 'Bats in the Belfry' has to be one of the best openings I've read in this series – a family gather at a funeral and talk turns to murder and the best way to dispose of a body. An opening that instantly leads us to wonder who will be the victim and who will be the murderer. It also cleverly introduces us to all the main players in this mystery. In the space of a few pages the reader learns of the personalities and possible disputes that feature in the book.
Unlike the majority of 'cosy crime' this one is solved successfully by a policeman, Inspector MacDonald. Although initially we have two amateur sleuths – a journalist and an architect – for the most part the crime is solved by the trusted Scotland Yard. This book makes for a wonderful example of an early police procedural novel and reading one from 1937 is fascinating.
There is also a fantastic atmosphere in this book. The 'Belfry Studio' where the body is discovered missing a head and hands, is a tall, crumbling, gothic building, a place where you can sense evil lurking and a place that attracts all kinds of nefarious people. As the book is set in London, we are also treated to a brilliant passage where two characters are having a conversation surrounded by fog. You feel spooked as you read it, you don't know who might be lurking and as the characters say 'a fog's no place to discuss odd doings.'
I enjoyed this book. I like the police procedural element and I loved the atmosphere. The discovery of the body and the way it is hidden is certainly a lot darker than most cosy crimes and that made the book for me.
THE AUTHOR
E.C.R Lorac was a pen name of Edith Caroline Rivett (1894-1958) who was a prolific writer of crime fiction from the 1930's to the 1950's, and a member of the prestigious Dectection Club. Her books have been almost entirely neglected since her death, but deserve rediscovery as fine examples of British crime fiction in its golden age.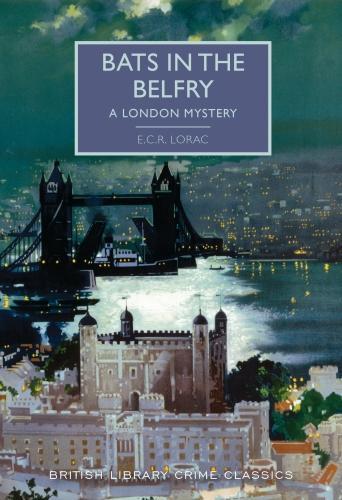 'Bats in the Belfry is out now in paperback, published by The British Library. With thanks to Abbie Day at The British Library for my reading copy.