I've decided this year to a Read of the Month post to highlight the book I've enjoyed the most over the past month. My first Bookish Corner Read of the Month for January is 'A Spoonful of Murder' by Robin Stevens.
THE BOOK
When Hazel Wong's beloved grandfather passes away, Daisy Wells is all too happy to accompany her friend (and Detective Society Vice President) to Hazel's family estate in beautiful, bustling Hong Kong. But when they arrive they discover something they didn't expect: there's a new member of the Wong family. Daisy and Hazel think baby Teddy is enough to deal with, but as always the girls are never far from a mystery.
Tragedy strikes very close to home, and this time Hazel isn't just the detective. She's been framed for murder! The girls must work together like never before, confronting dangerous gangs, mysterious suspects and sinister private detectives to solve the murder and clear Hazel's name – before it's too late . . .
THE REVIEW
"This time I am not just a detective, I'm a witness. And I think that I might even be a suspect…"
As I always say at the start of any review that I do for the Murder Most Unladylike series – I love Robin Stevens and I love Hazel and Daisy! These books are going from strength to strength and 'A Spoonful of Murder' is now my favourite (alongside 'First Class Murder'). When I saw that this latest mystery was going to be set in Hong Kong I was even more excited to read it, China has long held a fascination for me and I have a weakness for books set in this wonderful country. Robin Stevens has brought Hong Kong to life in this book, I felt like was right beside Hazel and Daisy as they navigated this bustling city and as Daisy experienced Hong Kong for the first time.
I thought this book was slightly darker than the previous books, the girls' are now fourteen and starting to view the world with adult eyes. The audience for these books grow up alongside the characters and Robin Stevens is doing a fantastic job of ageing the stories without making it obvious. The murder is a little more gruesome, the girls' meet a sinister gang and the web of mystery that is unpicked had a much more 'adult' feel to it. I'm pretty sure I'm only spotting this development because I am a grown up, it's not something that younger readers (the intended audience) will pick up on. They will love it just as much as the other mysteries!
The conclusion was shocking and like all good mystery books, I did not see it coming. This has all the ingredients that I have come to expect and love from the Murder Most Unladylike mysteries – nefarious characters, red herrings, plenty of cake, plenty of fun and a cracking plot. And not to mention also an absolutely stunning cover! Wells and Wong really do feel like my friends and I absolutely cannot wait for the next adventure.
THE AUTHOR
Robin was born in California and grew up in an Oxford college, across the road from the house where Alice in Wonderland lived. She has been making up stories all her life.
When she was twelve, her father handed her a copy of 'The Murder of Roger Ackroyd' and she realised that she wanted to be either Hercule Poirot or Agatha Christie when she grew up. When it occurred to her that she was never going to be able to grow her own spectacular walrus moustache, she decided that Agatha Christie was the more achievable option.
She spent her teenage years at Cheltenham Ladies' College, reading a lot of murder mysteries and hoping that she'd get the chance to do some detecting herself (she didn't). She then went to university, where she studied crime fiction, and then worked at a children's publisher.
Robin now lives in London with her husband and her pet bearded dragon, Watson.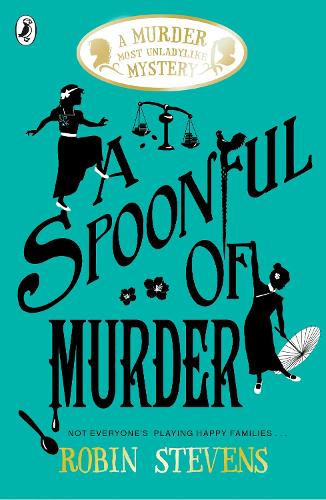 'A Spoonful of Murder' is published on the 8th of February in paperback by Puffin. With a big than you to the publishers for my reading copy (and for the fabulous detective party pack!)