THE BOOK
True death is a thing of the past. Now you can spend the rest of eternity re-living your happiest memories: that first kiss, falling in love, the birth of your children, enjoyed on loop for ever and ever.
Isobel is a Heaven Architect, and she helps dying people create afterlives from these memories. So when she falls for Jarek, one of her terminal – and married – clients, she knows that while she cannot save him, she can create the most beautiful of heavens, just for him.
But when Jarek's wife is found dead, Isobel uncovers a darker side of the world she works within, and she can trust no one with what she finds…
THE REVIEW
This book doesn't sit in one category, it blends thriller with a touch of sci-fi and it works very well. We meet Isobel, Heaven Architect. It's her job to use software that will create your ideal heaven, you pick the memories, the scents, the people, the images and when you leave this mortal coil it will all be waiting for you.
The book starts with Isobel meeting Jarek, a dying man and one that she falls for. The synopsis of the book reveals that Jarek is accused of murder shortly after his death. And because of that, I found I could not trust a single thing he did or said. I didn't like him at all! But I don't think we're meant to like him or trust him. Isobel has to go against everything she believes in in order to prove his innocence.
This book is full of moral questions. Although we don't have the technology to do it yet, one day a Heaven Architect could be reality. And that is quite scary. Is this really something that should be engineered? I can't help but feel that no, we should not be messing around with what we see and experience after death. And would you even have enough trust in the people looking after your 'heaven' to not interfere with it in some way?
I did find this read gripping. I just had to know what happened! It will be a read that stays with me for awhile due to its moral aspect. An enjoyable, unnerving page turner.
THE AUTHOR
Holly Cave was born in Torquay in 1983. She received a BSc in Biology and an MSc in Science Communications from Imperial College London, after which she spent four years working at the Science Museum in London. After taking a career break to travel the world, Holly became a freelance writer and now writes about Science for non-expert audiences alongside her fiction. She lives in Bedford with her husband, baby son and dog.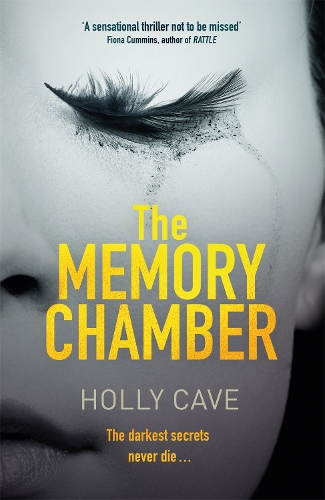 'The Memory Chamber' is published in hardback by Quercus on the 22nd of February. With thanks to the author and the publisher for my review copy.