THE BOOK
After convicting a superior for corruption and shooting off a gangster's crown jewels, the career of Hamburg's most hard-bitten state prosecutor, Chastity Riley, has taken a nose dive: she has been transferred to the tedium of witness protection to prevent her making any more trouble. However, when she is assigned to the case of an anonymous man lying under police guard in hospital – almost every bone in his body broken, a finger cut off, and refusing to speak in anything other than riddles – Chastity's instinct for the big, exciting case kicks in.
Using all her powers of persuasion, she soon gains her charge's confidence, and finds herself on the trail to Leipzig, a new ally, and a whole heap of lethal synthetic drugs. When she discovers that a friend and former colleague is trying to bring down Hamburg's Albanian mafia kingpin single-handedly, it looks like Chas Riley's dull life on witness protection really has been short-lived.
THE REVIEW
Following a career altering event, Chastity Riley is completely unsatisfied with life. She spends her time 'watching' people who could be in danger and is bored. In a big way. Her latest case however sparks something in Chastity, something she thought was long gone – her investigative instinct.
For a short book (182 pages) this was quite a slow-burner. Usually, I tend to find shorter books full of action and fast paced, but with 'Blue Night' the action didn't really kick in until over halfway. While this might be an issue for some readers, I didn't have a problem with this at all. I was thoroughly engaged with Simone Buchholz's writing and lead character, Chastity, and enjoyed the story. As soon as I read the line 'a good cheese sandwich can save lives, I'm convinced of that.' I knew I would love Chastity.
Chastity brings something new to crime fiction. She's fresh, witty, loyal and likeable. She has a big heart and is troubled by the things she discovers. Her job as a prosecutor is perfect for her, she has a big sense of justice and truth. But 'Blue Night' is also about the people around her. She has a small, yet strong group of friends who will do anything for each other. The camaraderie between this group is touching and was one of my favourite aspects of the book.
The plot is intriguing and the writing is superb. The first page packs a punch and from then on you are helplessly in the grip of Simone Buchholz. The book is full of atmosphere, from the sweaty, busy bar Blue Night to the gritty, sad streets of a drug-addled Hamburg. Simone Buchholz paints a picture in the readers mind that is full of detail. I pretty much read this on one sitting, I found myself completely enthralled right from the beginning and that was mainly due to the clever writing and an endearing lead character. I feel like we've only just scratched the surface of Chastity Riley, she is a character that I could happily read more of.
Overall, a cracking story with a splash of classic noir crime and a lead character who is full of compassion, loyalty and a force to be reckoned with!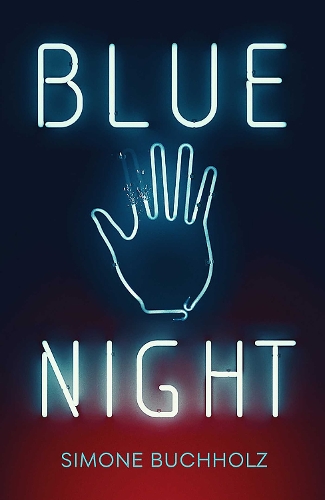 THE AUTHOR
Simone Buchholz was born in Hanau in 1972. At university she studied Philosophy and Literature, worked as a waitress and a columnist, and trained to be a journalist at the prestigious Henri-Nannen-School in Hamburg. In 2016 she was awarded the Crime Cologne Award as well as runner up for the German Crime Fiction Prize for 'Blue Night'. She lives in Sankt Pauli, the heart of Hamburg with her husband and son.
'Blue Night' is published in paperback by Orenda Books on the 28th of February. With a big thank you to Orenda for my reading copy and to Anne Cater for inviting me on the blog tour.
Make sure you check out all the other fabulous bloggers on this tour!