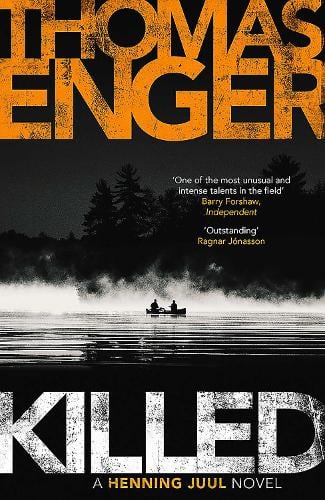 THE BOOK
Henning Juul sits in a boat on a dark lake. A man with a gun sits opposite him. At the man's feet is a body that will be soon be dumped into the water. Henning knows that the same fate awaits him. And he knows that it's his own fault. Who started the fire that killed Henning's young son? How is his sister, Trine, involved? Most importantly, who can be trusted?
Packed with tension and unexpected twists, 'Killed' is the long-awaited finale of the internationally renowned series featuring conflicted, disillusioned but always dogged crime reporter Henning Juul, and one of the most chilling, dark and moving crime thrillers you may ever read.
THE REVIEW
When I discovered that this was not only book five in a series, but also the conclusion of the series, I was immediately worried about reading it having not read any of the previous books. But once I started reading I realised that this could easily be read as a stand-alone novel. I will read the other books because I enjoyed this one so much. But I can happily advise any other readers that you don't have to read the others to enjoy 'Killed'.
Right from the first page I was gripped. The prologue just grabs you and you immediately get a sense of danger and foreboding that sticks with you for the rest of the book. The atmosphere of those opening pages is phenomenal, it is an atmosphere of darkness, death, deception and doom. An atmosphere that settles around you for the whole of Henning Juul's final outing.
The plotting is simply superb. I was riveted and genuinely couldn't tear myself away. There are so many little threads that come together for the grand finale. I was initially worried that there would be too many characters for me to keep up with, but I very quickly grasped who was who. The character summary at the start of the book was very helpful! Thomas Enger is a talented and clever writer, he manages to completely hook you in and keep you prisoner until that last page. And even then, I'm not entirely sure he has let me go!
At no point did I feel the book got lost in translation, Kari Dickson has done an outstanding job of bringing this book to a wider audience. In fact, I didn't even feel like I was reading a piece of translated fiction.
For a crime book it was surprisingly emotional and can I just mention that last page?! Oh goodness me – tissues! This was a read that left me wanting more. I thoroughly enjoyed every single heart stopping moment, the pages turn themselves and they beg for you to keep reading. A definite, whole-hearted recommend from me.
THE AUTHOR
Thomas Enger is a former journalist. He made his debut with the crime novel 'Burned' in 2010 which became an international sensation. 'Burned' is the first in a series of 5 books about journalist Henning Juul, they delve into the depths of Oslo's underbelly, skewering the corridors of dirty politics and nailing the fast-moving world of 24-hour news. Enger also composes music, he lives in Oslo.
'Killed' is published by Orenda Books in paperback on the 28th of February. With thanks to Orenda Books for my reading copy and to Anne Cater for inviting me on the blog tour.
Why not check out the other stops on the tour?