THE BOOK
It's 1969, and while the summer of love lingers in London, Gilda is consumed by the mistakes of her past. She walked out on her beloved son Reuben when he was just a boy and fears he'll never forgive her.
When Reuben marries a petite blonde gentile, Gilda takes it as the ultimate rejection. Her cold, distant son seems transformed by love – a love she's craved his entire adult life. What does his new wife have that she doesn't? And how far will she go to find out? It's an obsession that will bring shocking truths about the past to light . . .
THE REVIEW
"These are the things that have been keeping me awake at night. The could-haves and the should-haves and the why-didn't-I-do-this? If I could go back I'd change it, but life doesn't give you that chance. So instead I'm going to change myself – to become the sort of mother my son deserves. It won't be easy but I know I can do it. Alice is showing me how."
I thoroughly enjoyed this book. Original, moving, slightly sinister and with a dash of dark humour – just my kinda read! It's narrated to us by Gilda during 1969. Gilda is only in her fifties but has had the life experience of someone twice her age. She married young and had a son, Reuben. She struggled to be a good mother to begin with but now she is determined to make up for it.
The way Gilda inserts herself into the lives of her son and daughter-in-law, Alice, I found wildly entertaining. She practically becomes a stalker and frequently 'bumps into' Alice but as Reuben will barely talk to her, Gilda is left with no choice. She has to keep an eye on things, it's how she shows she's a good mother. By always being there.
This read was peppered with dark humour. And I frequently found myself having a little chuckle! But the humour is balanced with the tragedy of Gilda's life. Her narration switches between the present day and her recalling her past. You can't help but feel deeply sorry for her – she is packed of to boarding school in another country as a young girl, her father arranges her marriage at eighteen, she struggles to connect with her baby and that has left ever lasting damage. Reading about Gilda's past is quite emotional and as a mother to a son, I found her desire to repair her relationship with Reuben, touching and heart breaking.
I whipped through this book at a fast pace. The short chapters helped me devour the story and the need to see how things worked out for Gilda, Reuben and Alice kept me glued to the pages. I particularly loved the last chapter, it just made me rub my hands together with glee! You'll have to read it to find out why.
This was a book I couldn't put down – gripping, dark, powerful, exceptional and with a lead character like no other. I will be looking out for more from Francesca Jakobi.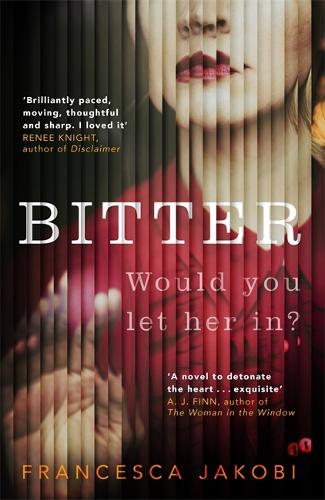 'Bitter' is out now in hardback published by Weidenfeld and Nicolson. A big thank you to Jennifer Kerslake for my reading copy.
If you like the sound of 'Bitter' you should give these a go too:
'Darling' by Rachel Edwards (published May 17th)
'Hausfrau' by  Jill Alexander Essbaum
'The Woman In the Window' by A.J Finn
'Fierce Kingdom' by Gin Phillips