I've decided to do a joint review for two of the books that I've received with My Chronicle Book Box, the May box is due to arrive soon and there are still a couple of days to order yours here's a handy link – I strongly recommend you do! And you can get a discount with my code – EBC10. My unboxing links are included in this review – just to tempt you a little bit more…
The Devil's Claw – Lara Dearman – My Chronicle Book Box Unboxing – February Box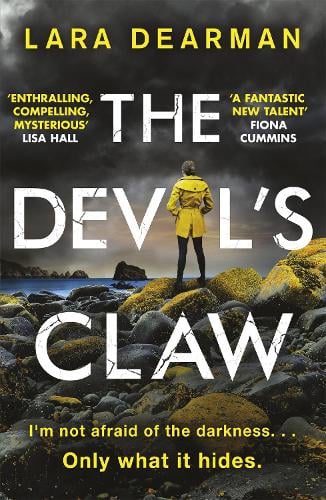 Following a traumatic incident in London, Jennifer Dorey has returned to her childhood home in Guernsey, taking a job as a reporter at the local newspaper. After the discovery of a drowned woman on a beach, she uncovers a pattern of similar deaths that have taken place over the past fifty years.
Together with DCI Michael Gilbert, an officer on the verge of retirement, they follow a dark trail of island myths and folklore to 'Fritz', the illegitimate son of a Nazi soldier. His work, painstakingly executed, has so far gone undetected. But with his identity about to be uncovered, the killer now has Jennifer in his sights.
I always enjoy books set on islands, so when I saw the 'The Devil's Claw' was set on Guernsey I knew I would love it. Using her experiences of her Guernsey life, Lara Dearman has captured island life perfectly. The claustrophobic everyone knows everyone feel is portrayed wonderfully and makes the perfect environment for a crime novel.
There were lots of twists and red herrings in this book. A few times I thought I had the culprit pegged, then the rug would be pulled from under me and I would be back to square one. Being kept on my toes made 'The Devil's Claw' a complete and utter page turner for me.
The pairing of journalist, Jenny, and DCI Michael Gilbert, is one I hope to again soon. Jenny is the one who spots a pattern among drowned women on the island, her determination to seek justice for these women is admirable. She is single-minded in her quest and DCI Gilbert is right beside her. These two both have wounds from a previous life that they are trying to heal and they both have a strong belief in the truth, together they are pretty unstoppable.
This was a highly enjoyable crime novel, blending together police procedural writing, folklore and journalistic integrity to create a page turning thriller, with a surprising ending. This is one that I definitely recommend.
Did You See Melody? – Sophie Hannah – My Chronicle Book Box – November Unboxing @MyChronicleBB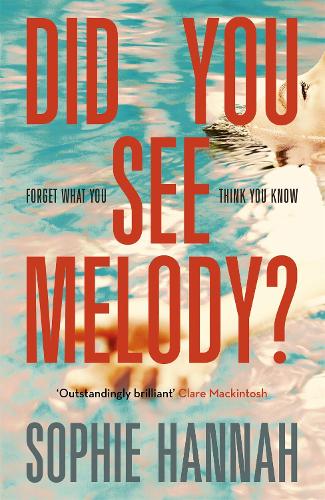 Pushed to breaking point, Cara Burrows abandons her home and family and escapes to a five-star spa resort she can't afford. Late at night, exhausted and desperate, she lets herself into her hotel room and is shocked to find it already occupied – by a man and a teenage girl.
A simple mistake on the part of the hotel receptionist – but Cara's fear intensifies when she works out that the girl she saw alive and well in the hotel room is someone she can't possibly have seen: the most famous murder victim in the country, Melody Chapa, whose parents are serving life sentences for her murder.
Cara doesn't know what to trust: everything she's read and heard about the case, or the evidence of her own eyes. Did she really see Melody? And is she prepared to ask herself that question and answer it honestly if it means risking her own life?
I had seen a lot of mixed reviews for this book, so I started it with trepidation and an open mind not knowing how I was going to feel about it. But I am happy to say that despite my caution, I did enjoy it.
Cara has abandoned her family in England to a spa in Arizona, America. Although yes, this is a little extreme, haven't we all just wanted to leave everything behind, even just for a short while and escape?? The spa resort Cara checks into sounds heavenly. All of Sophie Hannah's descriptions just made me utterly green with envy. It made me just want to pack my bags. Most of the book is narrated by Cara, but can we trust what she saw? I love an unreliable narrator and I did enjoy the unsettled feeling that reading this book gave me.
This was a quick read for me, I needed to know what the diddly was going on so that meant I was glued to the pages. I definitely did not see the ending coming – Sophie Hannah throws her readers a complete curve ball and leaves you feeling a little silly that you didn't spot the culprit. Entertaining, twisty, intriguing and with a beautiful setting.