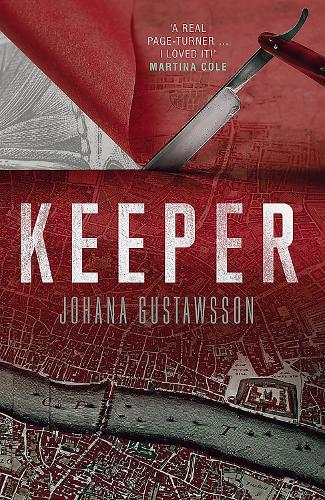 THE BOOK
Whitechapel, 1888: London is bowed under Jack the Ripper's reign of terror.
London 2015: actress Julianne Bell is abducted in a case similar to the terrible Tower Hamlets murders of some ten years earlier and harking back to the Ripper killings of a century before.
Falkenberg, Sweden, 2015: a woman's body is found mutilated in a forest, her wounds identical to those of the Tower Hamlets victims. With the man arrested for the Tower Hamlets crimes already locked up, do the new killings mean he has a dangerous accomplice, or is a copy-cat serial killer on the loose? Profiler Emily Roy and true-crime writer Alexis Castells again find themselves drawn into an intriguing case, with personal links that turn their world upside down.
THE REVIEW
I was utterly wowed by Johana Gustawsson's first Roy and Castells novel 'Block 46' (Bookish Corner Read of the Month – February – 'Block 46' by Johana Gustawsson) so when I was offered the chance to be on the blog tour for 'Keeper', I practically bit lovely Anne's hand off! Just like with 'Block 46' I was completely and utterly blown away by 'Keeper'. How Johana Gustawsson manages to create such tight, clever plots and jaw dropping twists, I do not know. I am in awe!
This was one of those books that when I finished, all I could think was "b****ks now I have to somehow come up with a review that does it justice". I both love and hate it when a book creates that feeling! Right from the first page, I knew I was in for a treat of massive proportions and I wasn't wrong. The story is weaved together slowly, intricately and intelligently. We are taken from the murky Victorian streets of London, haunted by Jack the Ripper, to a London of today and also to the cold, yet beautiful Sweden. Sometimes when a book jumps around timelines and places, you can be left feeling confused about where you are. But somehow Gustawsson manages to seamlessly tie these three locations together, set the atmosphere for each one whilst keeping the story flowing and easy to follow.
I won't lie – this book is graphic, brutal and certainly not for those of a gentle disposition. But among the darkness are our two leading ladies, Emily Roy and Alexis Castells. Under tough exteriors these two both have big hearts, it's quite touching to see their tentative friendship developing. They both have tragic pasts and Alexis' comes to the fore front in 'Keeper'. This pair have to be one of my favourite crime thriller duos and I genuinely cannot wait to see more from them.
I have a huge weakness for Victorian crime novels so the fact that Jack the Ripper's London makes an integral appearance in this book is just one of many big ticks that I can give it. Again, I say the plotting is superb and the way that everything fits in together is as satisfying as completing a 1000 piece jigsaw puzzle.
Dark, clever, tense, chilling and outstanding, I can't recommend it enough. And that ending… blimey, I had to pick my jaw up from the floor!
I was also very excited to see my review for 'Block 46' quoted inside 'Keeper'  – cue happy blogger dance!
'Keeper' is out now in paperback published by Orenda Books. A big thank you to Orenda for my reading copy and to Anne Cater at Random Things Tours for inviting me on this blog tour. Why not check out the other stops: