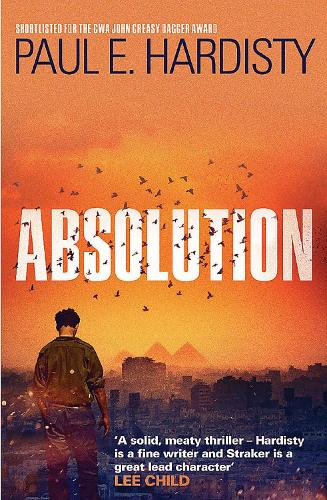 THE BOOK
It is 1997, eight months since vigilante justice-seeker Claymore Straker fled South Africa after his explosive testimony to Desmond Tutu's Truth and Reconciliation Commission. In Paris, Rania LaTour, journalist, comes home to find that her son and her husband, a celebrated human rights lawyer, have disappeared. On an isolated island off the coast of East Africa, the family that Clay has befriended is murdered as he watches.
So, begins the fourth instalment in the Claymore Straker series, a breakneck journey through the darkest reaches of the human soul, as Clay and Rania fight to uncover the mystery behind the disappearances and murders, and find those responsible. Events lead them both inexorably to Egypt, where an act of the most shocking terrorist brutality will reveal not only why those they loved were sacrificed, but how they were both, indirectly, responsible. Relentlessly pursued by those who want them dead, they must work together to uncover the truth, and to find a way to survive in a world gone crazy.
THE REVIEW
Unfortunately, I haven't been able to finish reading 'Absolution' in time for my stop on the blog tour. I'm half way through but due to my little one being really poorly over the last week, I haven't been reading as much as normal. So, a big apology to Karen, Anne and Paul that my review is for only half a book!
What I've read of 'Absolution' I have enjoyed, it's fast-paced, full of action, vivid and beautifully written. It's book four in the Clayton Straker series, I haven't read the previous novels but this one could be read as a stand-alone. Personally, I feel I have missed out by diving straight into book four, I think I would have gotten a lot more out of the story and enjoyed it a lot more if I'd read the others.
The book switches between Clay's story and Rania's story, Rania's being told to us through diary extracts. I liked this change of narrator, both sides of the story are equally gripping but I did particularly like hearing from Rania. Both Clay and Rania have seen tragedy, and the book opens with dramatic events in both of their lives. I do love a book that has an explosive opening and 'Absolution' certainly delivers on that!
The exotic setting of the book is another big tick for me. I have a weakness for books that take me to new places and 'Absolution' has taken me to East Africa, Paris and Egypt. Paul E. Hardisty has brought these places to life with his writing. The descriptions are vivid, stunning and beautifully written. I like that such an action-packed, violent thriller can have lines so beautiful it's like reading poetry, Paul E. Hardisty has a very skilful pen!
A thriller full of emotion and heart, jammed packed with thrills and exhilarating to read. I can't wait to see how it ends!
'Absolution' is published on the 30th of May by Orenda Books. With thanks to Karen Sullivan for my reading copy and to Anne Cater for inviting me on this blog tour. Why not check other the other fabulous bloggers on the tour?