The Pool House by Tasmina Perry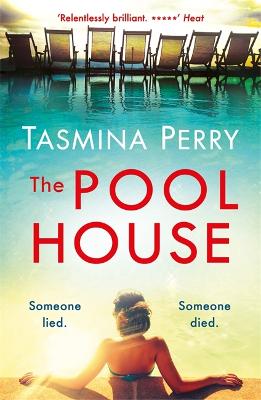 Jem has left England behind and followed her husband, Nat, to New York where his career is flourishing. Struggling to find a place for herself in Nat's new world, she finds herself thrust into the luxurious and rich location of the Hamptons, sharing a house over the summer with three other couples. But something happened at the house last year, a woman, Alice was found dead in the pool and the other housemates all have something to hide.
I thoroughly enjoyed myself with 'The Pool House'. It's full of mystery, glamour, secrets, topped off with a dash of sexiness. I couldn't put it down. Jem was a character I instantly connected with – she's a little lost in her new world, trying to find something for herself while at the same time supporting her husband and his high-flying career. She also doesn't take any crap. She finds herself more and more intrigued by the mysterious Alice and unable to tear herself away from finding out the truth.
There were lots of twists in this book, the pages just turn themselves. The intrigue is built up even more with the introduction of Alice's side of the tale throughout the book. This was the first book I've read by Tasmina Perry and it won't be the last. She kept me utterly enthralled with this perfect blend of exotic location, interesting characters and dark mystery. A superb read.
Eve of Man by Giovanna and Tom Fletcher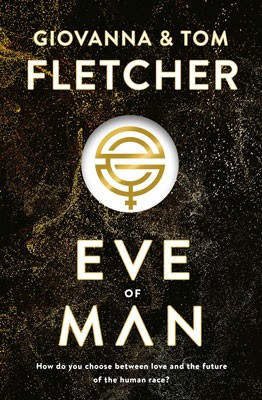 All her life Eve has been kept away from the opposite sex. Kept from the truth of her past. But at sixteen it's time for Eve to face her destiny. Three potential males have been selected for her. The future of humanity is in her hands. She's always accepted her fate. Until she meets Bram. Eve wants control over her life. She wants freedom. But how do you choose between love and the future of the human race?
Does this book break any new ground? No. But is it good fun to read? Yes, indeed! I thoroughly enjoyed 'Eve of Man'. As a big fan of both Fletcher's, I was very excited to see what they would deliver. I'm not ashamed to say, I wondered how it would come together with Giovanna writing Eve's perspective and Tom writing Bram's, I worried that the two sides would work individually but not together. I certainly did not need to worry about that! Both Bram's and Eve's voices are authentic and believable and together they create a gripping story. The fact that these two powerhouse authors can come together and create a story that seamlessly flits between characters is testament to how well they know each other, how strong their relationship is and how skilled their writing is.
With hints of 'A Handmaid's Tale' and shades of 'Strange the Dreamer', this is a story full of deceit, twists and action. It will make many readers very happy. It's a fast paced read and one that I happily whipped through quickly, although the downside of that is that the end came too soon. I was completely immersed in the world built by team Fletcher and I cannot wait for book two.
Transcription by Kate Atkinson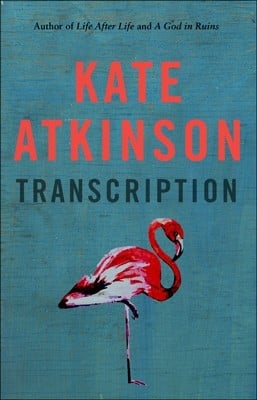 In 1940, eighteen-year old Juliet Armstrong is reluctantly recruited into the world of espionage. Sent to an obscure department of MI5 tasked with monitoring the comings and goings of British Fascist sympathizers, she discovers the work to be by turns both tedious and terrifying. But after the war has ended, she presumes the events of those years have been relegated to the past for ever. Ten years later, now a producer at the BBC, Juliet is unexpectedly confronted by figures from her past. 
Kate Atkinson doesn't half write a good story – I loved Transcription right from the very intriguing first page. Set in the 40's and 50's, we spend our time with Juliet Armstrong, recruited from her mundane desk job into the world of espionage (and into another seemingly mundane desk job!). But this tedious transcribing job thrusts Juliet into danger and her life is turned on it's head.
I loved Juliet, she is a fantastic character. Plucky, funny and full of youthful joie de vivre. Her journey through this book is a treat to read. In fact, she is just one of the many colourful and entertaining characters in this story.
This is a book to be devoured, it's full of intrigue, full of questions and full of mystery. The storytelling and plotting are outstanding, there are so many little details that combine together to create something wonderful. This is a book that can be read more than once, which is something I certainly plan to do. I cannot recommend this enough.
'Dark Pines' by Will Dean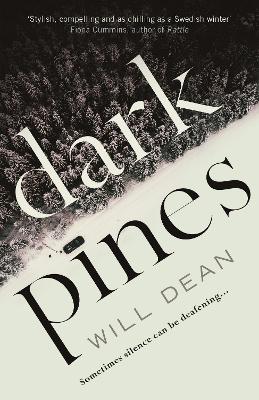 Eyes missing, two bodies lie deep in the forest near a remote Swedish town. Tuva Moodyson, a deaf reporter on a small-time local paper, is looking for the story that could make her career.
This is the first, in what promises to be, a superb crime series. I always enjoy a small-town murder mystery and Dark Pines was no exception. There is so much atmosphere is this book – it's set in a remote Swedish town surrounded by forest and the claustrophobic feel is inescapable. There is a definite sense of unease that Will Dean has managed to convey in every single page.
Our leading lady is Tuva Moodyson (great name!) a reporter who has been forced into this small town by family commitments, she is destined for much bigger things, but for now she is determined to seek out a killer. Tuva is deaf and although I have no experience with this myself, Will Dean has done a stellar job in writing from her point of view. It's sympathetic, true to life and makes Tuva an even more likeable character.
Tense, utterly gripping, dark and with a fantastic lead character. I cannot wait for more!