THE BOOK
Married couple Jack and Ali Gardiner move to a self-sufficient commune in the English Fens, desperate for fresh start. The local village is known for the witches who once resided there and Rosalind House, where the commune has been established, is a former psychiatric home, with a disturbing history.
When Jack and Ali arrive, a chain of unexpected and unexplained events is set off, and it becomes clear that they are not all that they seem. As the residents become twitchy, and the villagers suspicious, events from the past come back to haunt them, and someone is seeking retribution…
THE REVIEW
"This has become a place of love and hope. People who have been in very dark places have come here and found light"
Oooooh this was a bit bloody good, what an absolute killer read! I was utterly under the spell that SJI Holliday weaved with her words and her story. If you are looking for a novel to keep you up at night and chill you to the core of your bones, then look no further.
Our main characters, Ali and Jack, are seeking a new life. They have shed their old life, their home, their possessions and have come to Rosalind House for something fresh. The commune is full of interesting and intriguing types, leader and founder Smeaton Dunsmore, 'Fairy' Angela who has an ethereal presence and an obsession with ghosts and mysterious (and in my mind attractive) carpenter Ford. Ali and Jack have to find their place among this eclectic bunch, and some of them are not overly welcoming.
The book is told from Ali's point of view in the third person, alongside Angela's told in the first person. A clever writing ploy that becomes clear about half way through the book. We also get to hear from Smeaton sporadically. These are the key players in this tale and the book being written the way it is, really really works. Readers are also treated to diary extracts from a doctor who worked at Rosalind House when it was a psychiatric hospital in the Fifties, these I absolutely loved. I have a fascination with anything asylum based, it's one of my absolute favourite themes in books so these for me were just the cherry on the top of a super succulent delicious cake.
Right from the very first line you get a sense of dread, a lingering (see what I did there!?) unshakeable feeling that something really really bad is going to happen. SJI Holliday holds you in a state of unsettled tension throughout reading this, how she does it, I do not know, but I applaud her! You clasp desperately to the book, furiously turn the pages, devour every word until the very brilliant ending is delivered. And even after reaching that last page, the chills stay with you.
This will be a book I forever recommend to people, it blew me away. Tense, creepy, bursting with atmosphere and bone chilling. I f**king loved every minute!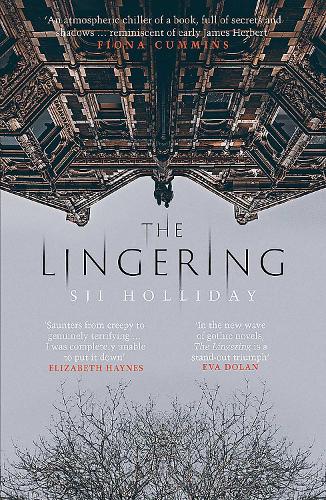 'The Lingering' is published on the 15th of November in paperback by Orenda Books. With a big thank you to Orenda for my reading copy and to Anne Cater for inviting me to take part on the tour. Make sure you check out the other stops!