Sleep by CL Taylor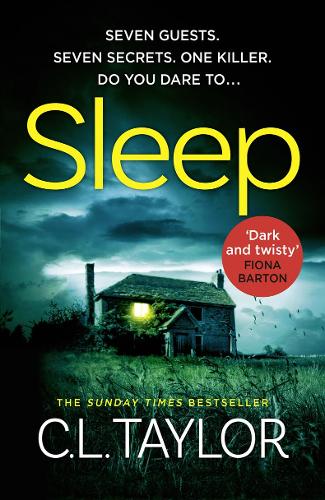 Seven guests. Seven secrets. One killer.
Nothing could be more terrifying than being trapped with a bunch of strangers in a remote location, but when it becomes clear that one of those strangers has murderous intent, the terror increases exponentially. Anna suffers from insomnia following a tragic car accident where she was driving, a new life and a new job is her fresh start, her way of hopefully finding some solace and some sleep. But someone can't move on from the devastation of the accident and they have revenge in mind.
This is a book that once you start 'Sleep' will be the furthest thing from your mind! I am a complete and utter sucker for a closed circle suspect pool novel, and I am loving the upsurge in this style of thriller. 'Sleep' is claustrophobic, gripping, full of characters to hate and to like, and the remote setting on a Scottish island is the icing on the cake. Whilst some readers may find some of the plot lines predictable, I'm happy to report that C.L Taylor had me on the edge of my seat, greedily reading this book in hungry gulps.
'Sleep' is published in hardback on the 4th April by Avon, Harper Collins. With thanks to @HarperInsider for my review copy
The Familiars by Stacey Halls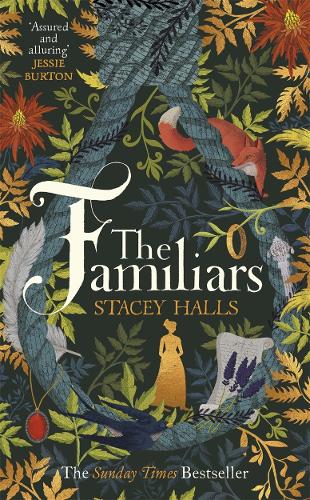 Lancashire, 1612. Fleetwood Shuttleworth is seventeen and pregnant for the fourth time. Desperate to see her child born safely after failed pregnancies she turns to young midwife, Alice Gray. But Fleetwood and Alice live in a time of witchcraft accusations, where no young woman is safe.
I really rather enjoyed this tale. I adore books that look at early medicine and midwifery skills, the fact that this book is set around the Pendle witch trials was a bonus for me. I found myself really drawn to Alice, her life was fascinating to me, in fact I would have been happy to see her as the narrator rather than Fleetwood (bonus points to Stacey Halls for a superb character name).
I would have liked to have seen more of the witches, but the whole crux of the story looks at women who were falsely accused with no evidence or circumstantial evidence. So it makes sense to keep the witchcraft element in between the lines, it leaves it to the reader to decide whether these women were dealing with dark elements or whether they had skills that were just misunderstood.
This was a read that I found absorbing, fascinating and vivid. The moment where Fleetwood visits the cell (pit) that the accused women are being kept in will forever haunt me. And yes, we aren't supposed to judge a book by it's cover but just look it!
'The Familiars' is out now in hardback, published by Bonnier Zaffre. With thanks to Nico at Zaffre for my gorgeous reading copy which was also signed by the author!
Louis & Louise by Julie Cohen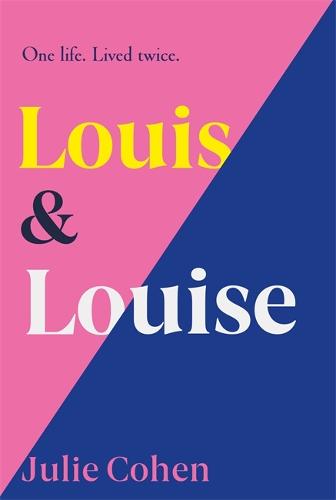 Louis and Louise are the same person in two different lives, separated by only their gender. They have the same parents, the same best friends, the same dreams and the same red hair. They both left home after a catastrophic event and thirteen years later, they are coming home.
This is such a clever idea for a novel. I must admit I thought I was getting a novel looking at transgender characters but what I got was something much much more. Each chapter changes between Louis and Louise, they are telling the same parallel story but with one big difference – gender. Some gender differences are big and some are subtle, Julie Cohen tackles them all! Obviously, I am aware of gender differences but it was fascinating to see the exact same events from such different perspectives. I liked Louis and Louise a lot, usually with dual narratives I find I prefer one to the other, but this book was different. I loved them both. I had great sympathy for both of them and I championed them both.
This is a story told with heart, it opens your eyes and lingers in your mind when you're away from it. Beautiful, touching, thought-provoking and unique.
'Louis & Louise' is out now in hardback published by Orion. With thanks to the publisher for my reading copy and instagram kit!
The Silent Patient by Alex Michaelides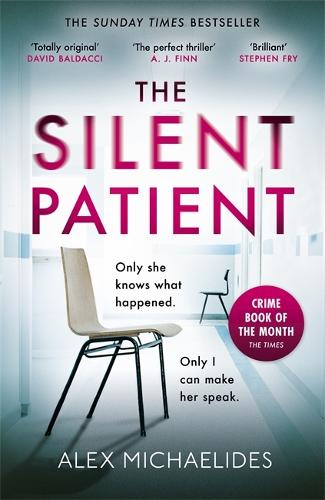 One evening Alicia shoots her husband five times and then never speaks another word. Theo is a psychotherapist who is convinced he can get Alicia to talk. But if she does, what will be the truth? And who will want to hear it?
If you enjoy a good psychological thriller then you will love this! I couldn't put it down, I was completely drawn in by this story line. Although I couldn't overly warm to any of the characters, which seems to be the norm for me when I read a thriller like this, I still found myself utterly wrapped up in their lives and desperate for the truth.
This has all the key ingredients of a psychological thriller – dubious narratives, plenty of secrets, characters that aren't what they seem and a final denouement that will make you gasp. Some of my suspicions were correct and some were not, but this is an intense, exciting read that I found thoroughly enjoyable.
'The Silent Patient' is out now in hardback published by Orion. With thanks to the publishers for my reading copy.