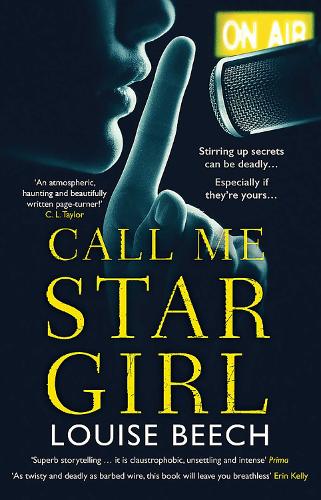 THE BOOK
Pregnant Victoria Valbon was brutally murdered in an alley three weeks ago – and her killer hasn't been caught.
Tonight is Stella McKeever's final radio show. The theme is secrets. You tell her yours, and she'll share some of hers.
Stella might tell you about Tom, a boyfriend who likes to play games, about the mother who abandoned her, now back after fourteen years. She might tell you about the perfume bottle with the star-shaped stopper, or about her father …
What Stella really wants to know is more about the mysterious man calling the station … who says he knows who killed Victoria, and has proof.
Tonight is the night for secrets, and Stella wants to know everything…
THE REVIEW
WOWZERS! This book blew my socks off. What a fantastic read from Louise Beech. This is one of those books that's hard to review, not because I didn't like it but because I loved it. Also I don't want to give any secrets away, this book is full of them. Which is very apt seeing as our leading lady, Stella, is hosting a radio show where the theme is secrets. The pages of this book are bursting with things people want to keep hidden, but Stella wants to know it all. But once those secrets are out, they can't be taken back.
The whole book takes place over the course of Stella's final radio show, with flash back chapters that focus on Stella and on her mother, Elizabeth, who left her when she was twelve and has just reappeared back in her life. Over these flash back snippets we get to slowly build a picture of who Stella is, what her life has been like and the dark relationship she has with her boyfriend Tom. Seeing things from Elizabeth's point of view adds the finishing touches to our understanding of Stella. Louise Beech has done a stellar job bringing these characters to life, they are believable, well-drawn and unforgettable.
There are some really chilling moments in 'Call Me Star Girl'. First off, there's the relationship with Tom, there are moments with him that make you feel deeply uncomfortable and distrustful. Secondly, there's an unknown murderer in the local area. And thirdly there's the phone calls that Stella keeps getting from someone who claims to know what happened to Victoria, the murder victim and there's someone lurking outside in the shadows, watching Stella. The atmosphere is incredibly taut, it could snap at any moment, I was gripping the pages with anticipation. The writing in this book is just astounding.
When I say 'it kept me up past bedtime' I really, really mean it. I'm generally asleep by 9.30pm (hardcore I know!) but when I hit the half way point of this book I HAD to finish it. The conclusion is just jaw dropping! I was pretty tired the next day having put the book down at about 11.00pm, but I do not regret it! Just utterly brilliant. This is the first book I've read by Louise Beech and it certainly won't be the last. The plotting, the writing, the atmosphere, the characters – it all comes together to create a chilling, un-put-downable, shocking read. BRILLIANT!
'Call Me Star Girl' is published on the 18th of April in paperback by Orenda Books. With thanks to Team Orenda for my review copy and to Anne Cater of Random Things Tours for inviting me to be a part of the blog tour. Check out the other wonderful bloggers!