The Psychology of Time Travel by Kate Mascarenhas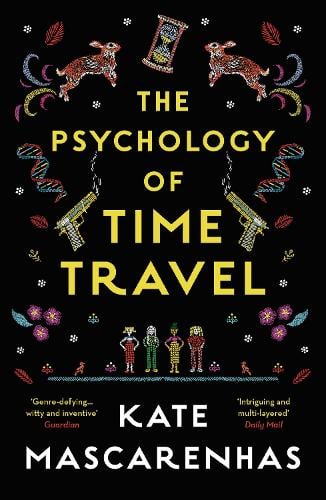 Four female scientists in 1967 invent a time travel machine, one of the scientists suffers a public breakdown jeopardising the whole project. In 2017 Ruby and her Granny Bee, former time travel scientist receive a warning from the future. 2018 and Odette finds a dead woman in a locked room at work, everyone seems determined to cover up the murder. But she wants the truth.
This book was so much fun and utterly original. It's a time travel locked room mystery, I mean how wonderful is that. There are two main things that I adored – 1, the completely all female cast. Men do appear now and again, but for the most part this book is all about the ladies. And 2, in this story time travel is just an everyday thing. As normal as popping to the supermarket. Fan-flipping-tastic!
There wasn't anything to dislike about this read. I loved the characters, I loved the story line, I loved the mystery and I loved the cover. This will be a book that I read again, there are lots of little clues drip fed to you as you read and I think a re-read will give me the chance to fully appreciate those little clues. Clever, tightly plotted, completely captivating – a read that stands out from the crowd. A big five stars from me!
The Psychology of Time Travel is out now in paperback published by Head of Zeus. With thanks to the publishers for my reading copy.
The Last by Hanna Jameson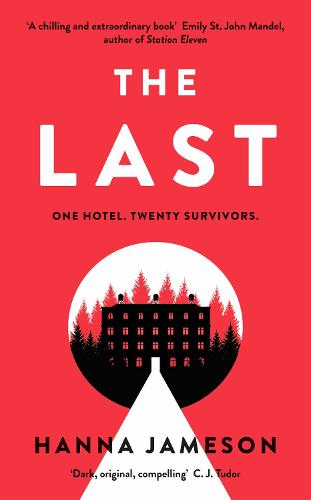 A nuclear weapon destroys Washington. Jon is in a Swiss hotel with twenty other people when the world ends. They are surviving the best they can, then a murdered girl is discovered and paranoia and suspicion threaten everything.
A closed-suspect pool crime novel set in a dystopian world?? Sign me up! If Agatha Christie wrote an end-of-the-world novel I'm pretty sure it would be something very similar to 'The Last'. I was completely addicted to this book, I could not put it down. I read waaaay past my bedtime just to find out how everything would conclude, I was quite tired the next day having read more or less half the book in that one sitting! I love a small suspect circle crime novel and the twist of this being set post-nuclear explosion really appealed to me. It also prompted one of my all time favourite bookseller discussions at work – 'would you stay in the hotel with a crazed murderer? Or take your chances outside with the nuclear fall out?' My response was, if I have chocolate then I'm staying with the crazed murderer!
There was also quite a chilling element to this read. Washington is destroyed as a result of a President being voted in who has very singular ideas about how to run a country, sound familiar to anyone?! Although this is a fictional tale, it's a fictional tale that echoes 'this could happen' and that is pretty terrifying.
I finished this book a few weeks ago and it still haunts me a little. It's dark, utterly gripping, unique and chilling. Don't start it before you go to bed, or you'll end up having a very late night!
The Last is out now in hardback published by Penguin/Viking. With thanks to the publisher for my reading copy.
The Confessions of Frannie Langton by Sara Collins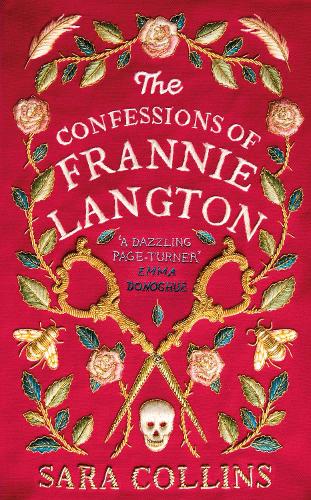 1826 and Frannie Langton, maid to the Benham's, stands trial for their murder. The evidence against her is damming and for the first time Frannie is telling her side, the truth.
Sadly I wanted to like this more than I did. I had really high expectations as there are a lot of elements in this book that I adore in my reads – Victorian setting, slavery, murder – but I did struggle with the first half of the book. Frannie is our narrator and she alludes to things that have happened to her, they are all revealed by the end of the book, but I kept feeling like I had missed something and that made the first part of this book feel a little disjointed to me. I've seen some fantastic reviews for this book, so I'm in a minority, it could just be that my mind wasn't in the right place when I started reading.
However, despite my misgivings and my struggle with the first half, I did enjoy the second half of the book. Frannie Langton is a wonderfully unique lead character for this time period. Usually Victorian set books have white lead characters, but here our heroine is black. And as someone who reads a lot of fiction set in this era, this was a breath of fresh air to me!
There is no denying that Sara Collins in a skilled writer, she brought Frannie's world to life for me and I'm looking forward to seeing what she writes next. Even though this may not have been for me, this is still a book that is worth reading, especially if you love fiction set in the eighteen hundreds.
The Confessions of Frannie Langton is out now in hardback published by Penguin/Viking. With thanks to the publisher for my reading copy.