THE BOOK
The retreat at health-and-wellness resort Tranquillum House promises total transformation. Nine stressed city dwellers are keen to drop their literal and mental baggage, and absorb the meditative ambience while enjoying their hot stone massages.
Miles from anywhere, without cars or phones, they have no way to reach the outside world. Just time to think about themselves, and get to know each other.
Watching over them is the resort's director, a woman on a mission. But quite a different one from any the guests might have imagined. For behind the retreat's glamorous facade lies a dark agenda.
These nine perfect strangers have no idea what's about to hit them…

THE REVIEW
I am a huge fan of Liane Moriarty and the premise of 'Nine Perfect Strangers' sounded like a dream read for me and I thoroughly enjoyed myself with this book. There is a lot of dark humour in it which I adored, I laughed aloud a lot while reading this. This is the Waterstones thriller of the month for April, now while it isn't a 'thriller' in the usual sense, it is a book with a very sinister undertone and a book that has many thriller elements. For those readers expecting a traditional crime thriller you may find yourself slightly disappointed. Despite feeling at some points the book could be shorter, my overall feeling is that this is a great read that I really really liked.
I am a spa girl. I love a spa day. I love the chilled environment, I love the plinky plonky music, I love the smells. If I could have a spa day once a week, I would be very happy! A spa holiday of ten days would be even better but I would not be taking that holiday at Tranquillum. Oh my goodness, what a crazy place that is. Our nine guests start their cleanse by taking part in a five day Noble Silence, there is no talking, no eye contact, no reading – yep, you read that right. NO READING FOR FIVE DAYS, oh the absolute horror. No talking I could probably deal with, but no reading?? Nope nope nope!
We spend time with each of the characters in this book, but most of our time is spent with Frances, a successful romance writer who needs to 'cleanse' her life after a shattering relationship ordeal and a failed new novel. I loved Frances, she is hilarious. Most of my laugh aloud moments were due to her observations. She is cynical about her 'cleanse' but takes it all in her stride. The other character I rather liked (which probably says a lot about me) was the maniacal spa owner, Masha. A truly unique individual, with some incredibly mental ideas on health but as her story is slowly revealed I did develop a deep sympathy for her.
I found this read witty, entertaining, gripping and very enjoyable, 'Nine Perfect Strangers' is a book I can highly recommend, whether you're into spa days or not! Probably not after reading this!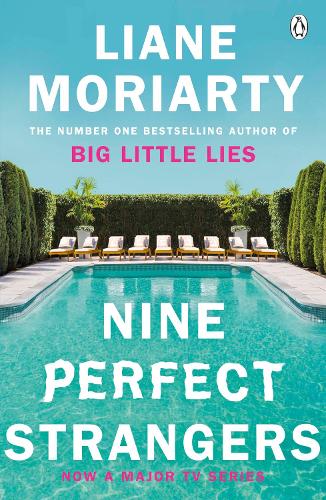 'Nine Perfect Strangers' is out now in paperback published by Penguin/Michael Joseph. A big thank you to the publishers for my reading copy.