THE BOOK
Marginalised by previous antics, Sam Shephard, is on the bottom rung of detective training in Dunedin, and her boss makes sure she knows it. She gets involved in her first homicide investigation, when a university student is murdered in the Botanic Gardens, and Sam soon discovers this is not an isolated incident. There is a chilling prospect of a predator loose in Dunedin, and a very strong possibility that the deaths are linked to a visiting circus…
Determined to find out who's running the show, and to prove herself, Sam throws herself into an investigation that can have only one ending…

THE REVIEW
I adored 'Overkill' by Vanda Symon, the first Sam Shephard (review here) and I was ecstatic when a reading copy of book number two 'The Ringmaster' dropped through my letterbox! Sam is one of my favourite female characters, I fell in love with her during 'Overkill' and 'The Ringmaster' has just strengthened my admiration. The same can be said for Vanda Symon's writing, I cannot tell you how much I enjoyed spending time with these two ladies again.
We catch up with Sam after events in 'Overkill' have, let's say, encouraged her to leave and start again in a new town, Dunedin. She is working towards her dreams of being a detective, but her boss seems to keep putting barriers in her way. Sam being Sam though does not let this stop her. There is a fantastic scene where she really lays into the guy, calling him out on his atrocious behaviour and I did find myself doing a fist pump and saying 'yes, girl!' That moment is just one of many superb moments in this book. Sam is feisty, cool, speaks her mind and doesn't take any crap from anyone. But she also has a big heart, making her very likeable and very human. At this point I have to say 'why the elephant? Why??' Anyone who has read this book will know EXACTLY what I'm talking about! That incident really shows how big Sam's heart is and I did have a Joey in Friends feeling where the book had to go in the freezer for a wee while. 'The Doll Factory' by Elizabeth Macneal which I read recently had a similar traumatising effect on me at one point! My books are going to be ruined if I have to keep putting them in the freezer!
'The Ringmaster' is an outstanding police procedural novel. The outcome came to me just before the big reveal and I did mutter 'ohmygod…' when I realised where the conclusion was headed. It's an incredibly satisfying read, you are right alongside Sam as she pieces together the clues and the dramatic end brings everything together in a nicely parcelled package.
Not only does Vanda Symon have an enviable talent when it comes to creating characters and witty dialogue, some of the one liners were truly magnificent. But she is also supremely skilled at bringing her settings to life. The Botanic Gardens sound beautiful, despite a body slightly marring the landscape! The streets of Dunedin and the towns people's suspicion of the circus folks come to life and as readers, you truly feel you're right there.
This series is one I cannot recommend enough. Fantastic writing, wonderful characters, a cracking mystery, this is a read that I did not want to put down and I was sad when I reached the end. Now I am eagerly and impatiently awaiting book three.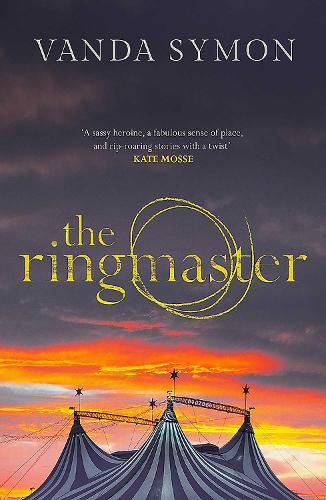 'The Ringmaster' is published on the 25th of April in paperback by Orenda Books. With a huge thank you to Orenda for my reading copy and to Anne Cater of Random Things Tours for my blog tour invite. Make sure you visit the other stops!