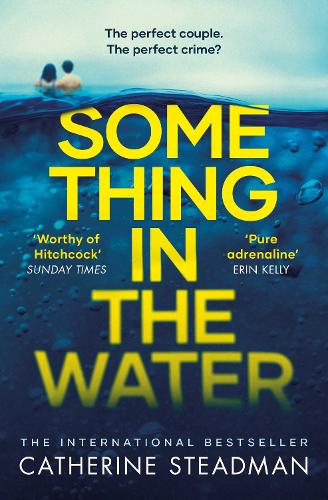 THE BOOK
Erin is a documentary filmmaker on the brink of a professional breakthrough; Mark a handsome investment banker with a bright future. They seem to have it all, until Mark loses his job and cracks start to appear in their perfect life.
But they're determined to make it work. They book their dream honeymoon and trust that things will work out – after all, they have each other.
On the tropical island of Bora Bora Mark takes Erin scuba diving. Mark is with her – she knows he'll keep her safe. Everything will be fine. Until they find something in the water.
Erin and Mark decide to keep their discovery a secret — after all, if no one else knows, who would be hurt? Their decision will trigger a devastating chain of events… which will endanger everything they hold dear.
THE REVIEW
Erin and Mark are the perfect couple, with everything to look forward to. So why is it that when we meet them in the opening chapter of 'Something In The Water', Erin is burying Mark's body? This first chapter is the conclusion of the events that take place throughout this read. I love it when a book starts at the end, I always find books that start like that hook me in a little bit quicker because I'm dying to know what has happened!
I'll be honest, I wasn't overly keen on either Erin or Mark. Although Erin did grow on me slightly, I think the opening chapter made me suspicious of Mark and I just couldn't trust him. They were both materialistic and spoilt, which I know was kind of the point of the story, but they really annoyed sometimes! My favourite character was actually one who only appeared now and again and that was gangster Eddie Bishop. Erin is making a documentary on soon to be released prisoners, one of which is Eddie and they form a weird, unexpected friendship, with Eddie becoming almost a father figure. His appearances were always entertaining and something I looked forward to.
Despite the fact that I wasn't wholly sold on the leading characters and I felt I had to suspend reality sometimes. Some of the things that Erin and Mark did were a little unbelievable. This is undoubtedly a gripping read and one I struggled to tear myself away from, there are a lot of little cliffhanger moments, that kept me glued to the pages. I adored the descriptions of Erin and Mark's honeymoon to Bora Bora, it sounds like complete paradise and the whole time I was reading, I just wanted to jump on a plane and head off there. Though I would definitely not be scuba diving!
'Something In The Water' is perfect summer reading material and one that can easily be devoured in one sitting. Enjoyable, absorbing and fast-paced.
'Something In the Water' is out now in paperback published by Simon and Schuster. With thanks to the publishers for my reading copy and to Anne Cater for inviting me on the blog tour. Make sure you visit the other stops!