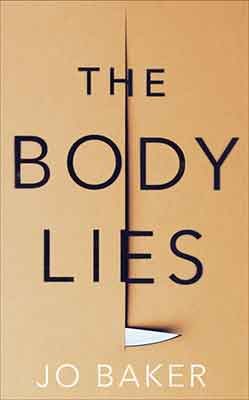 THE BOOK
When a young writer accepts a job at a university in the remote countryside, it's meant to be a fresh start, away from the big city and the scene of a violent assault she's desperate to forget. But when one of her students starts sending in chapters from his novel that blur the lines between fiction and reality, the professor recognises herself as the main character in his book – and he has written her a horrific fate. Will she be able to stop life imitating art before it's too late?
THE REVIEW
I struggled a little bit with this book until about half way through, then I couldn't tear myself away. I can't put my finger on why I struggled with it, it could be that there are two scenes that made me very uncomfortable, it could have been that the lead character made certain choices that infuriated me or it could have been that I was tired! But like I say, once I got to the half way point things changed for me. The book took a slightly different turn and became more of a read I could enjoy.
The story is narrated by a woman who remains unnamed. She tells us of the people in her life but never reveals her name, which is very clever. The whole book explores what it's like to be a woman in today's world of he said/she said. Our narrator is speaking for hundreds of women who have found themselves in similar situations and not knowing her name, bizarrely, makes her more relatable. It's very easy to see yourself in her shoes. She's a writer and this book is her written account of a particular period in her life. She has a son around the same age as mine, so when she speaks about motherhood, childcare and being a working mother, I couldn't help but vigorously nod in agreement. The world we live in makes it incredibly hard to be both a mother and a worker.
This book isn't a thriller, particularly. But there are moments that are completely chilling and moments that are full of suspense. One scene specifically stands out in my mind when our narrator's son, Sammy, stares out of the window convinced he's seen a man, but when his mum looks, there is no one there. I'm sure I'm not the only person who has a phobia of looking out of the window at night in case there is something looking back at you. Shiver.
The tale is interspersed with snippets of stories from the students on the creative writing course our narrator teaches. I enjoyed these intermissions, they give us readers a sense of the other characters in the book and they also help to build up a huge amount of tension which explodes at the end of the book.
Despite my initial misgivings, this is a great read that's incredibly well written. It's a fascinating portrait of modern life. It's dark, unforgiving, suspenseful and thought-provoking. Definitely worth a read.
'The Body Lies' is out now in hardback published by Doubleday. With thanks to the publisher for my review copy and to Anne Cater for inviting me on the blog tour. Make sure you visit the other fabulous bloggers!