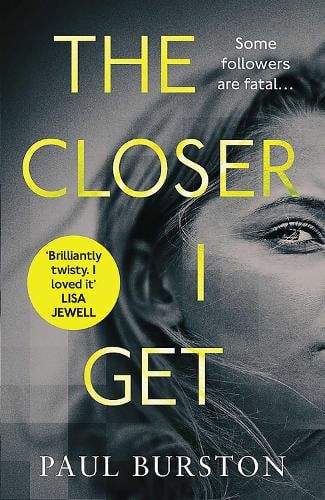 THE BOOK
Tom is a successful author, but he's struggling to finish his novel. His main distraction is an online admirer, Evie, who simply won't leave him alone.
Evie is smart, well read and unstable; she lives with her father and her social-media friendships are not only her escape, but everything she has.
When she's hit with a restraining order, her world is turned upside down, and Tom is free to live his life again, to concentrate on writing.
But things aren't really adding up. For Tom is distracted but also addicted to his online relationships, and when they take a darker, more menacing turn, he feels powerless to change things. Because maybe he needs Evie more than he's letting on.
THE REVIEW
Once again Orenda Books have given readers a sensational tale. I have never read a bad book from this publisher, Orenda consistently knock it out of the park and blow me away with their talented authors. They promised me 'The Closer I Get' would be a one sitting read and it was certainly that. Paul Burston's story is seductive and dark, it whispers to you, snakes under your skin and even when you put it down (begrudgingly!) you still find Tom and Evie echoing round your head.
'The Closer I Get' is an unsettling portrait of social media and the effects it has on our everyday lives. You never know who is the real person behind the profile picture or Twitter handle. You don't know if someone out there is paying special attention to your posts or location tags. This subject really sends a shiver up my spine. I had an experience where I had to deactivate all my accounts following a nasty break-up because social media was being used to find where I was and as an avenue for name-calling and judgments. Thank fully it only lasted a short while, but I now have extreme privacy settings and am very selective about who I 'friend'. This book will definitely make you reach for the block button and think twice about what you're posting!
I enjoyed reading this immensely and I had absolutely no idea where Paul Burston was taking me. I had many theories going on, but none of them rang true. Every time I thought I had something sussed, the story would swerve in another direction and I loved it. Every element of this book work's – the plotting is superb, the writing is incredible, the whole book is laced with tension and the characters are believable.
Chilling, tense, inescapable and gripping. 'The Closer I Get' is a fantastic read and I recommend it highly! Five stars!
'The Closer I Get' is published in paperback on the 11th of July by Orenda Books. As always, thank you to Anne Cater of Random Things Tours for my blog tour invite and to Orenda for my review copy. Make sure you visit the other stops on the tour.