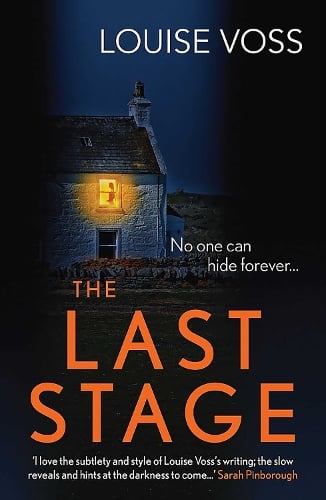 THE BOOK

At the peak of her career as lead singer of a legendary 1980s indie band, Meredith Vincent was driven off the international stage by a horrific incident. Now living a quiet existence in a cottage on the grounds of an old stately home, she has put her past behind her and come to terms with her new life.
When a body is found in the manicured gardens of her home, and a series of inexplicable and unsettling events begins to occur, it becomes clear that someone is watching, someone who knows who she is … Someone who wants vengeance.
And this is only the beginning…
A dark, riveting and chilling psychological thriller, The Last Stage is also a study of secrets and obsessions, where innocent acts can have the most terrifying consequences.

THE REVIEW

I read 'The Old You' by Louise Voss last year and it was an outstanding read (Blog Tour – 'The Old You' by Louise Voss – Book Review) so I was bouncing with excitement to get my hands on 'The Last Stage'. I knew I'd be in for a gripping, roller coaster of a read and that is exactly what Louise Voss gave me. There is a trend at the moment of books that feature female leads who have spent their early lives as a part of successful music groups. I know I'm not alone when I say I find that life style utterly fascinating and blending it into fiction is an absolute winner for me. In fact I had a conversation with a customer about this theme recently and immediately recommended this book!
But this is not just a tale of a former lead singer, trying to lead a normal life. This is a tale of a woman who suffered a terrifying, life altering experience and has just about got her life on track. Meredith lives a quiet life on the grounds of stately home, Minstead House. But her settled life is shattered when a body is discovered on the grounds. The body of a friend. Meredith's life is shaken, turned upside down and leaves her feeling vulnerable and distrustful.
What I loved most about this book was the exquisite, palpable and inescapable tension. The whole time I was reading this, my nerves were taut, my fingernails were shredded and my whole body was a coiled spring just waiting for a dramatic explosion. Louise Voss's writing is subtle yet powerful, it weaves itself around you and you become a part of the book. Her plotting is tight, clever and brilliant. Her characters are believable, likeable and feel like real people. One particular character's fate had me balling my eyes out!
Another big tick for me was the setting, I am a huge nerd when it comes to stately homes. I love 'em! As a child when I was dragged to one, I didn't find it boring at all (I was a weird child!) I lost myself in imagination, picturing it as my home (I wish!). The gardens always held as special magic for me so to read a book where the main character lives on the grounds of one of these houses was heaven. Minstead House is brought to life by Louise Voss, her descriptions are beautiful and I could completely envision myself wandering around there. Everything about this book is fantastic!
I say this in pretty much every review I do for Orenda, but seriously, this publisher has a superb list of authors. They are all amazing and Louise Voss is just one branch of this incredible family tree. 'The Last Stage' is clever, unsettling, un-put-downable – it's just brilliant!
'The Last Stage' is out now, published in paperback by Orenda. With thanks to Orenda for my review copy and to Anne Cater of Random Things Tours for inviting me on the blog tour. Make sure you visit the other stops!