THE BOOK
No sleep for twenty hours. No food for ten. And a ward full of soon-to-be mothers…
Welcome to the life of a midwife. Life on the NHS front line, working within a system at breaking point, is more extreme than you could ever imagine.
From the bloody to the beautiful, from moments of utter vulnerability to remarkable displays of strength, from camaraderie to raw desperation, from heart-wrenching grief to the pure, perfect joy of a new-born baby, midwife Leah Hazard has seen it all.
Through her eyes, we meet Eleanor, whose wife is a walking miracle of modern medicine, their baby a feat of reproductive science; Crystal, pregnant at just fifteen, the precarious, flickering life within her threatening to come far too soon; Star, birthing in a room heady with essential oils and love until an enemy intrudes and Pei Hsuan, who has carried her tale of exploitation and endurance thousands of miles to somehow find herself at the open door of Leah's ward.
Moving, compassionate and intensely candid, Hard Pushed is a love letter to new mothers and to Leah's fellow midwives – there for us at some of the most challenging, empowering and defining moments of our lives.

THE REVIEW
"Another night. Another vagina."
And so goes the life of a midwife! Even before I had my son, I knew midwives were a very special group of people. And after giving birth, my respect, admiration and love for midwives is something I will never be able to put into words. Like all NHS staff, midwives are worked to the edge of human abilities and Leah Hazard's memoir highlights the triumphs, the trials, the tiredness and the joys of bringing new life into the world.
I found myself utterly absorbed by Leah Hazard's stories, it was like she was sitting in front of me and we were chatting over tea and cake. Her warmth and passion for her job oozes from the pages and by the end of the book, I honestly felt like she was a dear friend. I also found myself caring for every single mother that we meet, they are all very different from each other, they have very different lives and very different births. But each one found a place in my heart.
There are two mother's that I still find myself thinking about long after finishing this book – Crystal pregnant at fifteen who goes into labour dangerously early and Pei Hsuan from Fujian province, a victim of human trafficking. Sadly we don't find out the outcome for these two women and their babies. It's a sad fact that sometimes after being treated by midwives, stories are left unfinished. It's an element of reading non-fiction that I struggle with, things not being tied up a nice big bow. All I can hope for is that they are happy and healthy. And that the kindness shown to them has stayed with them.
Like similar memoirs – 'The Language of Kindness' by Christie Watson and 'This Is Going To Hurt' by Adam Kay – 'Hard Pushed' illustrates the scary and despairing picture of the current state of the NHS. It's staff are over worked, underpaid and have to fight to be heard. This is a service that is desperately needed, yet it is desperately in need. It terrifies me, as I'm sure it does others, to think about where the NHS is heading.
'Hard Pushed' is a beautiful and touching portrait of midwifery. It's a story full of happiness and hope and it's a story that needs to be heard by everyone.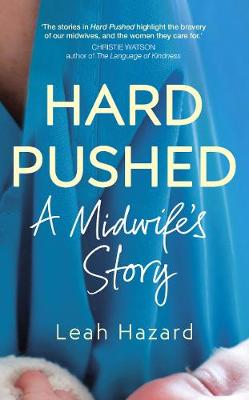 'Hard Pushed' is out now in hardback published by Hutchinson. With thanks to Sasha Cox at Penguin Random House for my review copy.