THE BOOK
Nine people arrive one night on Chelsea Bridge. They've never met. But at the same time, they run, and leap to their deaths. Each of them received a letter in the post that morning, a pre-written suicide note, and a page containing only four words: Nothing important happened today.
That is how they knew they had been chosen to become a part of the People Of Choice: A mysterious suicide cult whose members have no knowledge of one another.
Thirty-two people on that train witness the event. Two of them will be next. By the morning, People Of Choice are appearing around the globe; it becomes a movement. A social media page that has lain dormant for four years suddenly has thousands of followers. The police are under pressure to find a link between the cult members, to locate a leader that does not seem to exist.
How do you stop a cult when nobody knows they are a member?
THE REVIEW
WOW. I can honestly say I have never read anything like 'Nothing Important Happened Today'. It's chilling, dark, deeply unsettling and incredibly thought-provoking. Will Carver has written something completely unique and original – Bravo Mr Carver. Bravo! This is a read that totally scrabbled my brain and it's a read that will stay with me for a long time.
Nine people arrive on Chelsea Bridge. They are strangers and without speaking to each other, they all leap to their deaths. The police are baffled and even though Detective Sergeant Pace isn't a part of the investigation, he finds himself drawn in and fascinated about what has happened. Old Levant, the uncle of one of the nine, also wants the truth. Who are The People of Choice? Who is behind the group? How do you find a leader who doesn't appear to exist? These are just a few of the questions that spring up. I found myself constantly asking questions as I read this, you don't settle in for a comfy read with this book. Every page leads to more questions and you become as much a part of the investigation as Detective Pace. My inner Poirot was very happy!
The writing and plotting are superb. It's so so clever. Will Carver has managed to create an entire novel with barely any speaking between characters, the chapters are short and the pace is unrelenting. We get to see who the 'victims' are, what their lives are like and why they are so susceptible to The People of Choice. We meet Detective Pace and see how he fits all the pieces together. We also get to hear some of thoughts of the illusive leader, what I particularly liked about these bits was that they included insights into cult life. I find cults absolutely fascinating, this book is full of cult history and the psychology behind them. I lapped those sections up.
This is easily a one-sitting read. Although you may need to take a break for your own sanity! I couldn't put it down and even when it did, it reverberated around my mind. Compelling, unsettling and absolutely fluffed up – I highly recommend it.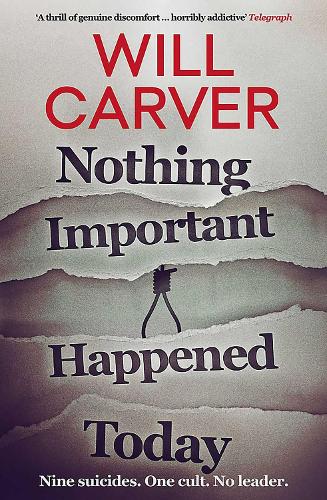 'Nothing Important Happened Today' is published in paperback by Orenda Books on the 14th of November. A big thank you to Orenda for my review copy and to Anne Cater of Random Things for my blog tour invite. Make sure you visit the other stops!