THE BOOK
Carrie's best friend has an accident and can no longer make the round-the-world trip they'd planned together, so Carrie decides to go it alone.
Violet is also travelling alone, after splitting up with her boyfriend in Thailand. She is also desperate for a ticket on the Trans-Siberian Express, but there is nothing available.
When the two women meet in a Beijing Hotel, Carrie makes the impulsive decision to invite Violet to take her best friend's place.
Thrown together in a strange country, and the cramped cabin of the train, the women soon form a bond. But as the journey continues, through Mongolia and into Russia, things start to unravel – because one of these women is not who she claims to be…
THE REVIEW
Goodness me this was good! So good! I could not put it down (I say that about all Orenda Books, they just weave some kind of magic spell over me). SJI Holliday's previous novel 'The Lingering' blew me away so I knew I would be in for another exciting, dark journey with 'Violet'. There is even a little nod to Rosalind House from 'The Lingering' and that just made me giddy with pleasure!
Two travelling strangers meet, Carrie and Violet, Carrie offers Violet a spare ticket for the Trans-Siberian Express and this simple act will cause unimaginable repercussions. Both of these young women are travelling alone, and I have to give them praise for that. I would never be brave enough to go on such an adventure! I admired both of them for their balls, even though I couldn't trust either of them. The whole time I was reading this I kept questioning everything they did and said, especially Violet who is our narrator. A narrator who is deeply unsettling and creepy.
The setting was a big win for me, I love reading anything that is set or partly set on a train, and the Trans-Siberian Express is something I've always wanted to experience for myself. The journey and the glances you get at the countries along the way are fascinating. This superb backdrop really made this book for me.
It's hard to review 'Violet' without spoiling anything, it is a journey that you have to take for yourself. And it's a journey that is disturbing, unnerving and gripping. SJI Holliday has an outstanding talent for creating tension and the whole time I was reading this, I felt like I couldn't breathe or look away from the pages. Violet and Carrie's adventure teeters on a knife edge and I loved every second. An outstanding, absorbing read.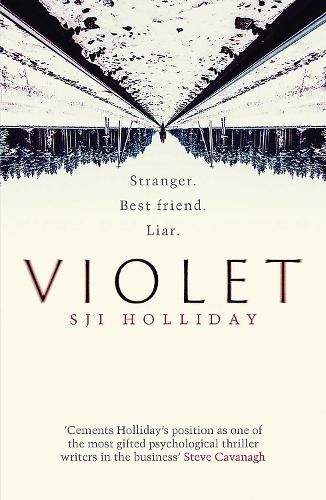 'Violet' is published in paperback on the 14th November by Orenda Books. With thank yous to Orenda for my reading copy and to Anne Cater of Random Things Tours for my blog tour invite. Make sure visit the other fantastic blogs on the tour!