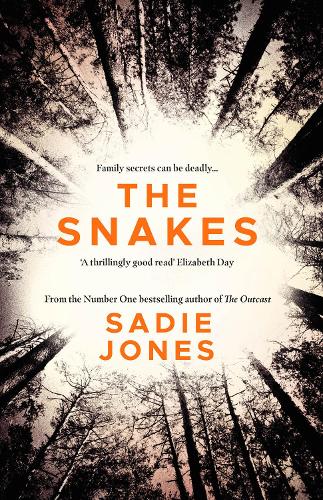 THE BOOK
Newly-weds Dan and Bea decide to escape London. Driving through France in their beaten-up car they anticipate a long lazy summer, worlds away from their ordinary lives.
But their idyll cannot last. Stopping off to see Bea's brother at his crumbling hotel, the trio are joined unexpectedly by Bea's ultra-wealthy parents. Dan has never understood Bea's deep discomfort around them but living together in such close proximity he begins to sense something is very wrong.
Just as tensions reach breaking point, brutal tragedy strikes, exposing decades of secrets and silence that threaten to destroy them all.
THE REVIEW
If you like your fictional families complicated and dysfunctional, then 'The Snakes' is a read for you!
Bea doesn't have anything to do with her family, her husband Dan has only met them a couple of times. They abandon life in London for three months of travel on a shoe string, with their first stop in France with Bea's brother, Alex, staying at his hotel. Right from the outset of this book, the atmosphere is tense and uncomfortable, even more so when Bea's parents arrive at the hotel. You can feel the choking atmosphere seeping through the pages as you read and when a tragedy happens, the tension ramps up even more.
Bea's parents are super rich, richer than she has let on to Dan. Despite the family money, her and Dan struggle through with their own finances, proud to be honest working people, relying on the 'cushion' of small savings they have for their trip. Bea views her father's money as a poison and her hatred for her mother baffles Dan. But as readers, we are allowed to see those reasons and a dark family secret makes everything clear for us.
'The Snakes' is a read all about the evils of money and privilege. The more Dan realises how much money his father-in-law has, the more he starts to change. And just as Bea feared, the allure of an easier financial life starts to slither between them, blackening their marriage. I can admire Bea a lot for sticking to her guns, her life could be made a hell of a lot easier by accepting her father's money. Dan on the other hand is a little weak for my liking, he allows himself to be manipulated and you can see the greed start to manifest in him.
This isn't just a novel about a dysfunctional family, there is also a death and the unanswered questions that surround it. I enjoyed the mystery aspect of 'The Snakes' a lot, yes, it focuses on the evils of money but it's also a steller crime novel. And my God, the end… I sat there in a stunned silence. It is the most perfect ending for this book, some people will disagree with me, but I feel it completely highlights the moral message of the book.
Gripping, tense, unsettling and superbly written.
'The Snakes' is published in paperback on the 20th of February by Vintage. With thanks to the publisher for my reading copy and to Anne Cater of Random Things Tours for my blog tour invite. Make sure you visit the other stops on the tour.