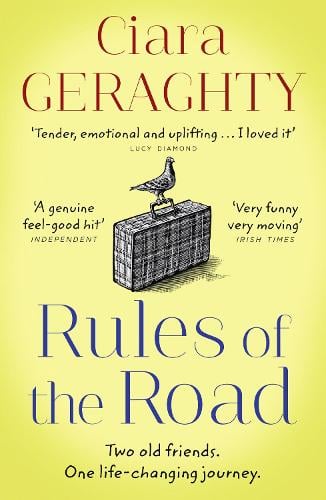 THE BOOK
Tuesday morning starts like any other – until Terry discovers her best friend Iris has gone missing. Finding her takes Terry, Iris and Terry's confused father Eugene, into an extraordinary journey – one that will change all of their lives. And, along the way, what should be the worst six days of Terry's life turn into the best.
Because friendship teaches us all to be brave. And, sometimes, the rules are made to be broken.
THE REVIEW
This book was a joy to read. It's funny, warm, emotive and a celebration of friendship. I felt honoured to be a part of Terry, Iris and Eugene's journey and felt quite bereft when it was over. They had all become friends to me and it was bittersweet to be parted from them.
The tale is narrated by Terry, who one morning discovers her best friend Iris has vanished, leaving behind a letter for her. A letter that causes Terry to embark on a spontaneous journey to find Iris. Completely unprepared for a trip, with no clothes, no passports, no tickets and with her Dad, Eugene who's nursing home is being closed for a week due to rats, Terry leaves everything behind determined to stop Iris making a terrible decision.
Terry is a creature of habit, she buys her clothes from Marks and Spencers, only drives familiar routes and is a demon when it comes to laundry and cleaning. But her love for Iris forces her to break her habits and to, heaven forbid, drive on the motorway. I am also very much a creature of habit, so I felt a great affinity with Terry as she tries to go against everything she is comfortable with. And often with surprising results! I particularly liked her coping mechanism of reciting washing instructions and cleaning tips to herself. In Eugene I saw my Grandad, who is also slowly disappearing to Dementia. Like Eugene, my Grandad loves music, dancing and driving, not that he does that any more. This book was made even more poignant for me because of the similarities. And I just loved Iris, a lady grabbing life while she can, an inspirational force of nature. I adored all the characters in this book, even the secondary characters are full of life and colour. Ciara Geraghty can really write people!
The writing is wonderful, it's not just the characters that are well written, but there are superb descriptions of the journey the threesome undertake. Every page is just bursting with life and heart. Each chapter is named after a 'Rule of the Road', with the events in the chapter relating to the rule it's named after. This very clever, little touch really added something to the book for me.
There are so many wonderful moments throughout this book, I genuinely loved every minute of reading it. It will warm your whole body and make you smile. Uplifting, entertaining, delightful, this is a big hug of a book that I highly recommend.
'Rules of the Road' is out now in paperback published by Harper Collins. With thanks to Anne Cater of Random Things Tours for my blog tour invite and to the publishers for my reading copy.
Make sure you visit the other blog tour stops.