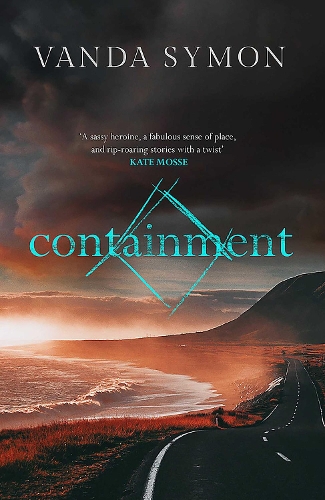 THE BOOK
Chaos reigns in the sleepy village of Aramoana on the New Zealand coast, when a series of shipping containers wash up on the beach and looting begins.
Detective Constable Sam Shephard experiences the desperation of the scavengers first-hand, and ends up in an ambulance, nursing her wounds and puzzling over an assault that left her assailant for dead. What appears to be a clear-cut case of a cargo ship running aground soon takes a more sinister turn when a skull is found in the sand, and the body of a diver is pulled from the sea … a diver who didn't die of drowning…
As first officer at the scene, Sam is handed the case, much to the displeasure of her superiors, and she must put together an increasingly confusing series of clues to get to the bottom of a mystery that may still have more victims…

THE REVIEW
I am such a huge fan of Vanda Symon and her heroine, Sam Shephard, I love love love this series! Every single thing about them works for me and the books just keep getting better and better ('Containment' is book three) and reading this was like putting on a pair of well worn comfortable slippers.
The first chapter opens on the scene of a container ship accident, a beautiful beach being overrun with opportunistic looters and we see Sam, witnessing the carnage, missing the day when a dog turd was the worst thing you could find on a beach. Instantly within that first couple of paragraphs you fall in love with Sam, for the first time if you're a new reader or all over again if you're happily returning to Sam's New Zealand.
A grim discovery is made and so begins a fresh investigation for Sam and her team. But our dear leading lady isn't running at full tilt. The beach is also the scene of a brutal assault that leaves Sam suffering with severe concussion. Now I didn't think I could adore Miss Sassy Pants Shephard any more but then Vanda Symon gave me, quite possibly my most favourite scene of any book ever – Sam Shephard high as a kite on pain killers and communing with a spider, Charlotte's Web style, in her hospital room. A moment of comic genius!
Of course it's not all fun and games, there is a murder to solve and Dunedin's best are on the case. And despite her beach run-in, Sam is determined to catch a killer and unravel the threads that all seem to lead back to the container accident. This isn't an edge-of-your-seat, thrill a minute crime book, it's an incredibly well-written police procedural tale full of subtle plot twists and witty dialogue. I found I was more invested in the characters, than the actual crime and the well-plotted mystery was just an added bonus for me.
We get to see a more vulnerable side of Sam in 'Containment', her assault leaves her defences down and more reliant on those around her, notably, Paul, who is certainly and most definitely not her boyfriend, even though he should be! I just want to shake her a little bit when it comes to him. Along with Paul, all our old favourites are back and the comradery between Sam and her friend's is wonderful, you get a really sense that this group adore each other and I love seeing them interact and banter with each other.
Fantastic writing, characters that feel like your friends, a superbly sassy leading lady and a wonderful setting. If you couldn't already guess I absolutely loved every second of reading this and I recommend this series to everyone.
'Containment' is out now in paperback published by Orenda Books. A big thank you to Orenda for my reading copy and to Anne Cater of Random Things Tours for my blog tour invite!