THE BOOK
In London's Bloomsbury, Inspector Julian Rivers of Scotland Yard looks down at a dismal scene. Here is the victim, burnt to a crisp. Here are the clues – clues which point to a good climber and expert skier, and which lead Rivers to the piercing sunshine and sparkling snow of the Austrian Alps. Yet there is something sinister beneath the heady joys of the slopes, and Rivers is soon confronted by a merry group of suspects, and a long list of reasons not to trust each of them. For the mountains can be a dangerous, changeable place, and it can be lonely out between the pines of the slopes…
THE REVIEW
Oh this was oodles of fun! I usually turn to my (extensive!) British Library Crime Classics collection when I need something light and want a good mystery and 'Crossed Skis' has leapt into my favourites from this series. The opening chapter is so incredibly British and encapsulates everything I love about these books.
There's a double narrative that runs through 'Crossed Skis', it opens with a group of sixteen people preparing to escape the dismal, grey London January weather for the crisp, white ski slopes of the Austrian Alps. And then slides over to an investigation being under taken by Scotland Yard when a body is found burnt and unrecognisable. These two story lines work in tandem with each other and come together for an exciting snow filled denouement. I enjoyed both of these story lines, I had immense fun reading about the investigation with Inspector's Brook and Rivers. They have a couple of breakthroughs that I had to suspend reality over, but it was very satisfying seeing the investigation come together.
Following our group of plucky young skiers as the travel by train, boat and bus from London, through France and to their finale destination of Lech, Austria was delightfully entertaining. I adore reading about travel during this era and I delighted in the descriptions of the train journey, which sounded horrific yet also a great adventure. There are some outstanding portraits of skiing and the slopes created by Carol Carnac. The author herself was a passionate skier and this resonates through her writing. The only slight thing that irritated me was the over use of the phrase 'look here', it appears a lot! But I quickly learnt to ignore it as a quirk of the period the book was written.
As with any group of people in a crime book, there are secrets and suspicious behaviour. There are characters you suspect from the outset and the ones who slowly grow to become suspects. There is a huge red herring in this book, along with lots of little herrings and it all comes to a gratifying end. This is a superb addition to the crime classics series and I am delighted it has been rediscovered.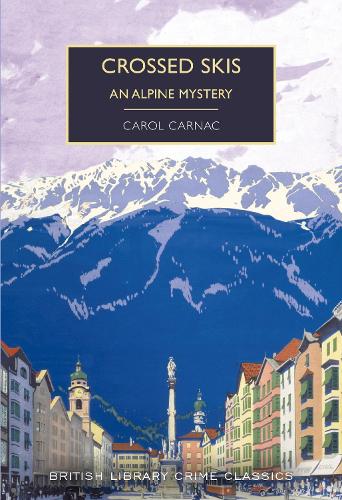 'Crossed Skis' is out now in paperback published by the British Library. With thanks to the British Library publishing team for my reading copy.