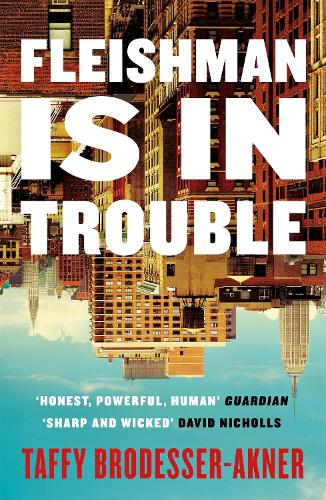 THE BOOK
Finally free from his nightmare of a marriage, Toby Fleishman is ready for a life of online dating and weekend-only parental duties. But as he optimistically looks to a future that is wildly different from the one he imagined, his life turns upside-down as his ex-wife, Rachel, suddenly disappears.
While Toby tries to find out what happened – juggling work, kids and his new, app-assisted sexual popularity – his tidy narrative of a spurned husband is his sole consolation. But if he ever wants to really understand where Rachel went and what really happened to his marriage, he is going to have to consider that he might not have seen it all that clearly in the first place.
THE REVIEW
'That was what I knew for sure, that this was the only way to get someone to listen to a woman – to tell her story through a man; Trojan horse yourself into a man, and people would give a shit about you.'
Doctor Toby Fleishman and his celebrity agent wife, Rachel, enjoyed a very comfortable life together. A nice apartment, a holiday home, exclusive schools for their two children, nice, juicy bank accounts. But when the marriage falls apart Toby is left nothing, just weekend parenting and dating apps. But then Rachel vanishes. Suddenly Toby is the main parent, the main provider and it's down to him to help his kids navigate this huge change, as well as trying himself to get his head around it.
This was a book of two halves for me – on the one hand we see a newly single middle-aged man enjoying no-strings sex and experiencing a vast amount of sexting. For me, this was just a little too much. I didn't want to know and nor did I really care about Toby's sexual exploits, they just made me roll my eyes a little bit if I'm honest.
However one the other hand, we have a very clever portrait of a man stumbling through life, trying to be there for his children, trying to hold down a successful career, trying to run a household and desperately trying to figure out where the heck his ex-wife has wandered off to. I was about half way through reading this, when it suddenly dawned on me and the quote I featured at the start of this review appeared – is this really the story of a man? Or has Taffy Brodesser-Akner used an incredibly clever writing tool, using a man to really tell the story of what it's like to be a woman? Then I started to look a little bit closer. Toby misses out on a promotion at work because of childcare issues, he has to ignore his own life in order to be a father and he gets judged for being a single parent – does any of this sound familiar? I could be wrong but that's how I saw this book – a timely and honest reflection on womanhood using a male Trojan horse.
We hear Rachel's side of the story in the last third of the book and again, this is quite a moving and important look at mental health and post-partum depression. There are a lot of hidden meanings in this book, it would make a great book club read.
Every now and again the narrative would slip from third to first person, we're meant to believe that the whole story is narrated by Toby's writer friend, Elizabeth but I found this quite jarring to be honest. All of a sudden, her voice would interrupt the flow of the story and it would take me a minute to get back into the swing of things.
I'm not sure I can say I 'enjoyed' reading this, it was a bit too literary for me and could have easily been maybe a hundred pages shorter. But I do think it is a very inventive, insightful and smart novel. It's certainly one that's worth a read.
'Fleishman Is In Trouble' is published in paperback on the 9th of July by Wildfire. With thanks to the publishers for my reading copy and to Anne Cater of Random Things Tours for my blog tour invite. Make sure you visit the other stops.